Dealing with a Foot That's in Pain Because of Toe Problems? The WellToes is the Best Toe Corrector for Anyone Looking for Durable, High-quality Toe Straps That Offer Total Support for Healing!
Strap Up, Heal Up — This Bunion Corrector with Adjustable Straps That Re-Aligns Toes and Foot to Prevent and Heal Pain

Are you looking for a bunion corrector that offers a firm grip that helps keep your toes and foot aligned properly? 
The WellToes bunion corrector features with adjustable, tight straps that aim to offer a more stable, firmer, more effective support for your toe and foot problems.
With thicker pads, the WellToes come with better compression to speed up healing and pain relief!
About this item
The Sponge Composite Cloth Can Give Your Foot That Stable, Firm, Gripping Support That Can Speed Up Healing. Sponge composite cloth, called hot-melt sponge composite cloth, is an adhesive clothing accessory that uses coating technology and equipment to make melted adhesive particles to firmly adhere the interlining to the back of the fabric.  This design makes the fabric have a stable shape and enhances its durability.
High-quality Support Without the Discomfort Thanks to The Mercerized Cotton. Also known as "ice silk cotton", mercerized cotton uses high-grade cotton as raw material to produce smooth, bright, soft and wrinkle-resistant high-quality mercerized yarn with high-grade cotton as raw material. It is a good product in cotton and better than ordinary cotton fabrics. Lightweight, more moisture-absorbing, and more breathable, it has been loved by people for a long time.
The Splint is Made of Aluminom Alloy for Flexible but Stable Support That Can Bring Back Your Toe to the Right Position. Aluminum alloy is the most widely used non-ferrous metal structural material in the industry. Its density is low, but its strength is higher. It is close to or exceeds that of high-quality steel. It has good plasticity and can process various profiles to meet different requirements. Industry needs
Effiicient Nylon Belt That Is Gentle On the Skin. Nylon belt is a thread belt woven with nylon yarn. It is usually used as accessories for clothing, shoes, shoes and bags. It is bright and not hairy, not easy to wrinkle, easy to wash and dry, and has high strength and abrasion resistance. Well, the application is extremely wide.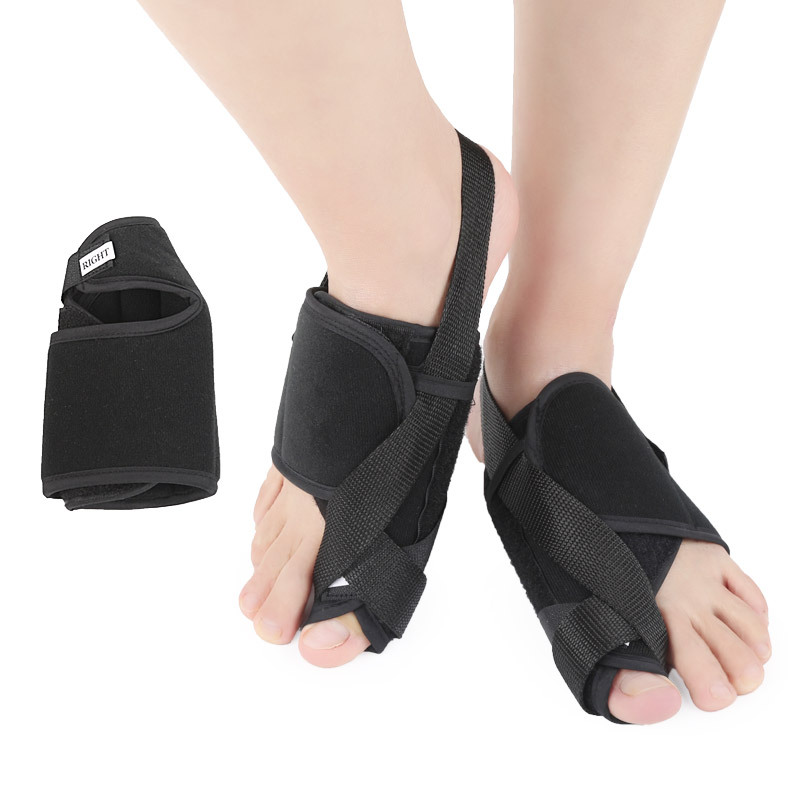 Features:
1. It can help you correct bunion, reduce the tendency to bunion formation.
2. Soft fabric, comfortable feeling, high quality. Bend the bone and toes comfortably.
3. It is extremely comfortable to wear and can be adjusted to provide maximum wearer comfort and support.
4. Soft and adjustable toe wrap keeps the big toe properly aligned during recovery.
5. Suitable for workers who stand for a long time, flight attendants, teachers, traffic, shopping guides, etc. Hallux valgus suffer from bone foot patient population, prevention of foot disease.
Size Chart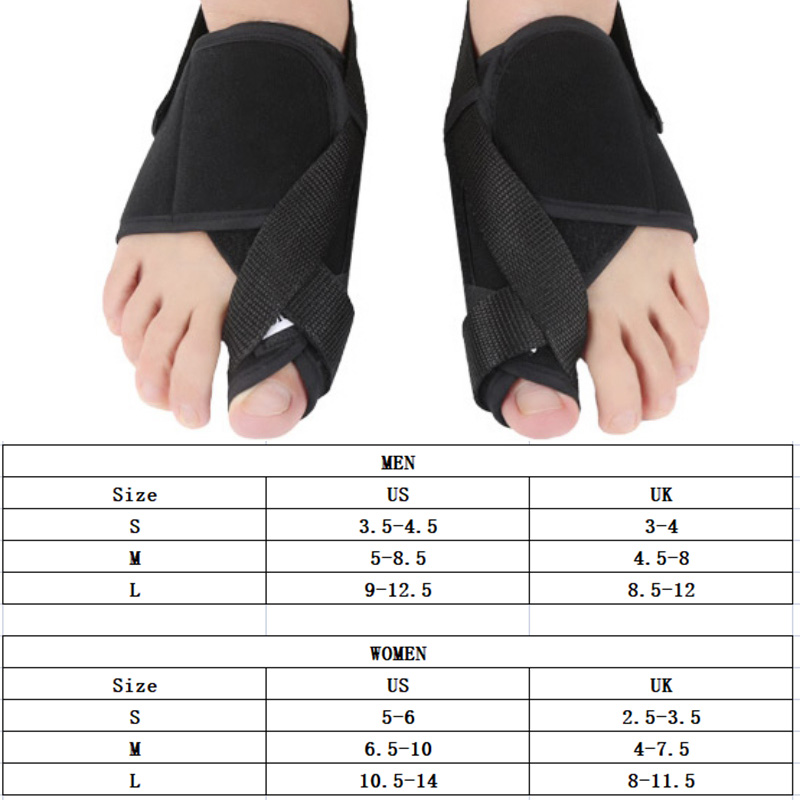 Specifications:
Material: sponge composite cloth, mercerized cotton
Category: Black
Size: S / M / L
Gender: Men, Women, Unisex
Model Number: Foot Care Hallux Valgus Bunion Corrector
Features: Breathable, Adjustable, Comfortable
Package included: 1 Pair Bunion Corrector