Your On-the-Go Walking Comfort, Introducing MolliPro!
Made by the experts in creating quality folding canes, the MolliPro is here to make everyone walk with ease and comfort. If you're someone who needs a little extra hand to gain mobility, or you're someone who's nursing an injury, MolliPro's collapsible and adjustable walking cane is your solution to start walking comfortably again.
Quality Design for Maximum Comfort
This sturdy medical-approved cane will support you throughout your daily life. Unlike other heavy-duty canes on the market, this adjustable metal folding cane from MolliPro quickly and easily folds into four pieces to make transportation and storage a cinch. It features an adjustable height, so you can set it up exactly the way you need. This ergonomically designed walking cane has a comfortable plastic handle with a removable hand strap to relieve stress and pressure while using it.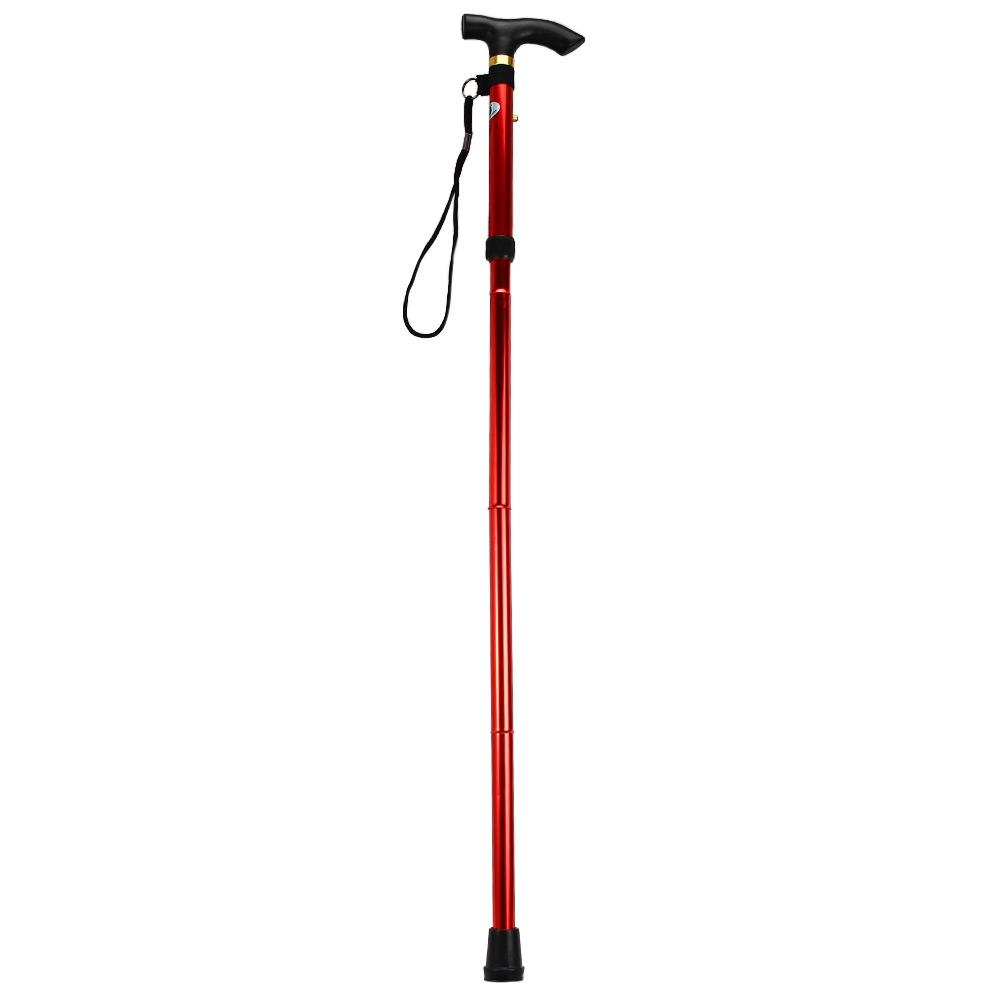 Features:
Ergonomic and Smooth Offset Handle: The derby handle, made from a special material, give you an exceptionally smooth touch. The contour shape of the handle is designed to fit your palm naturally and distribute your weight evenly for balance and stability. The wrist strap keeps the cane from falling from your hand.
Anti-Corrosion Aluminum Cane: The cane shaft is made from corrosion-resistant anodized aluminum. Weighing only 13 oz, the cane is well constructed and sturdy to be exceptionally safe, comfortable, durable, and fashionable.
Adjustable Heights and Weight Capacity: The cane is adjustable between 29″ and 38″ at 1″ increment for either short or tall men or women. A push-button with a locking ring is available to ensure that the cane stays at the set height for additional safety.
Anti-Slip Rubber Cane Base: The base of the MolliPro Walking Cane is made from a strong, slip-resistant rubber cane tip to support walking on all types of surfaces. The base is also compatible with most replacement cane tips.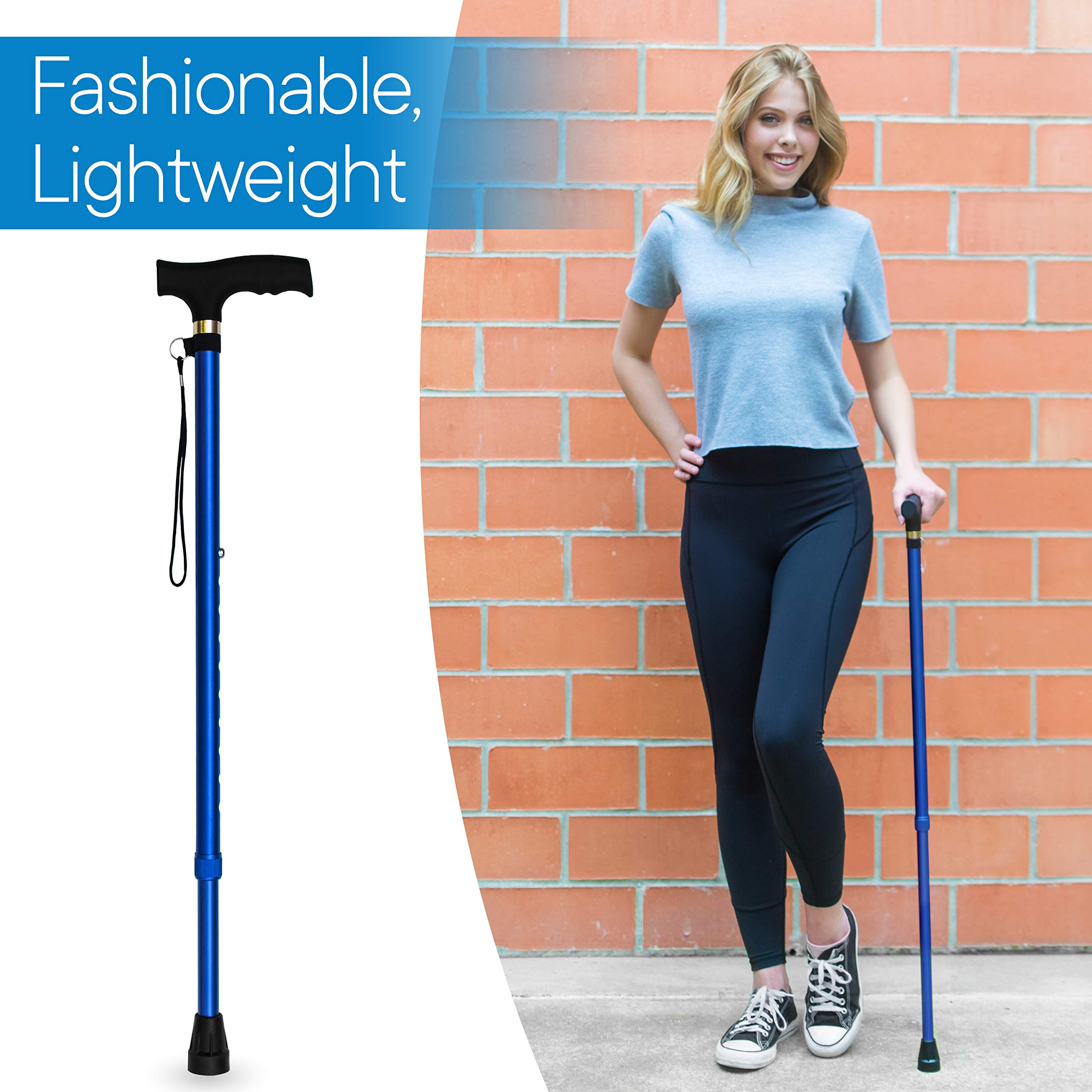 Smooth and Ergonomic Handle
The offset handle is contoured to fit the shape of your palm, making it more comfortable to use for long periods of time. A wrist strap is also included to guarantee a secure fit while walking in different road conditions. With this design at hand, we ensure that you'll feel comfortable and well-protected whatever road you're heading to.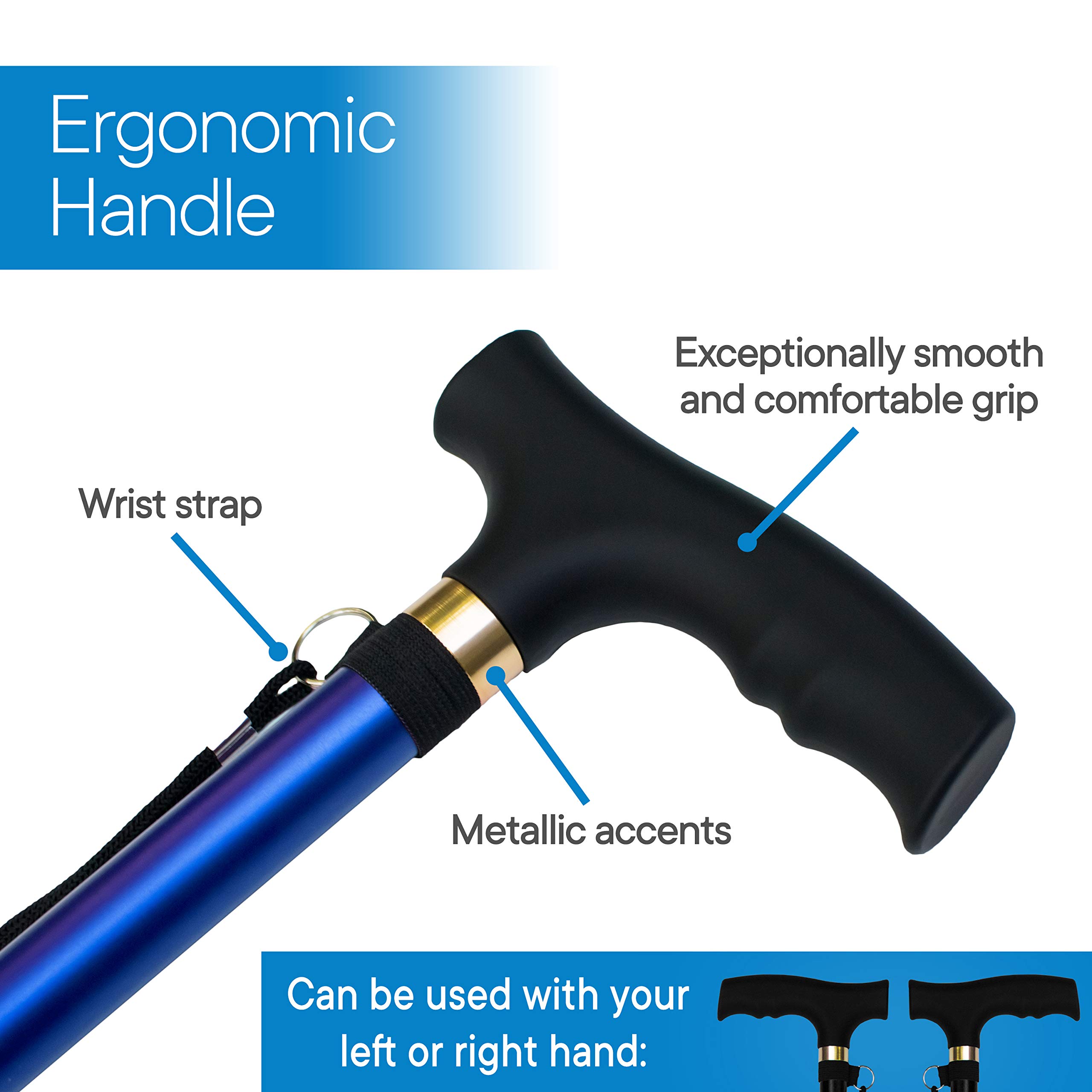 Adjustable Height
Our cane can be expanded from 29″ to 38″ to fit your needs. This solution is fundamental in correcting your posture while walking and ensures every step is less exhausting since the cane conforms to your height perfectly.
Slip-Resistant Rubber Tip
The rubber tip helps prevent slipping and skidding, making our strong cane even safer. We all know these little accidents could significantly damage your injury's healing process or worsen the pain your feeling due to limited mobility. With as simple as a slip-resistant feature, you have the peace of mind that every step you take is safe and less hazardous.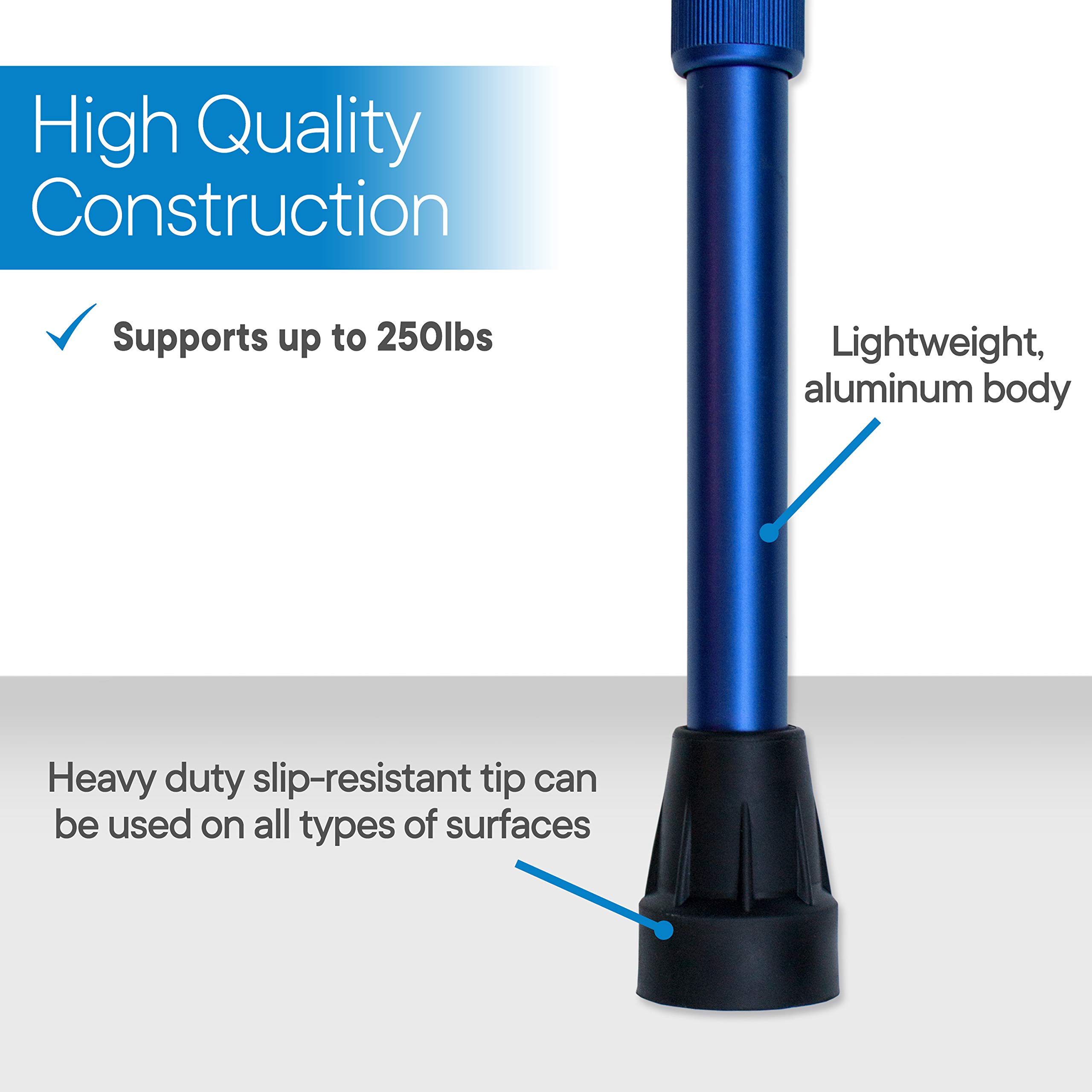 Specifications:
Material: Aluminum Alloy
Color: Black, Blue, Gold, Red, Silver
Best Use: Backpacking, Hiking, Mountaineering, etc.
Weight: 0.291 kg
Dimension:

 

 33.00 x 18.00 x 7.00 cm / 12.99 x 7.09 x 2.76 inches
Package Content: