Ease the Struggle of Limited Mobility with BareComfy!
As we all know, falling is the main cause of injuries among adults. It could be because of balance issues or their limited mobility, but one thing's for sure, you can prevent this from happening by getting them a quality walking cane that could ease the struggle of walking at their age.
The BareComfy is an innovative idea to ensure your aging loved ones have the independence and support in taking a step. It's made with premium-grade material that ensures light and sturdy walking cane they can take with them comfortably. Our Walking Canes also come with a comfortable handle and ergonomic design that can help them stay upright all the time. This feature significantly improves their posture and relieves back pains.
With BareComfy, balanced and well-supported walking for elderlies is at reach!
Features:
LARGE 4-PRONGED QUAD BASE: The quad base provides superior stability and traction on any surfaces, including smooth or uneven floor or concrete pavement. Each prong is covered with an anti-slip rubber cane tip for extra stability and safety. The quad base makes it a self-standing cane which eliminates falling or dropping on the floor. Perfect for after surgery when you can't bend or reach.
LEFT OR RIGHT HANDED: The quad base easily rotates from left to right side. The offset quad cane can be used by left-handed or right-handed men or women; It's like having two canes in one, no need to purchase two different canes.
OFFSET FOAM PADDED HANDLE: The BareComfy is padded with soft foam for a comfortable grip. This is great for those with arthritis, carpal tunnel, or sore joints who need extra cushioning.
LIGHTWEIGHT AND STURDY: The cane shaft is made from corrosion-resistant anodized aluminum. Weighing only 1.5 lbs, the quad cane is well constructed and sturdy to be exceptionally safe, balanced, and durable. Sustains up to 250 lbs of weight capacity.
ADJUSTABLE HEIGHT: The BareComfy is great for everyone—young or adult. The cane's height is adjustable between 28″ and 37″ to fit short or tall men or women.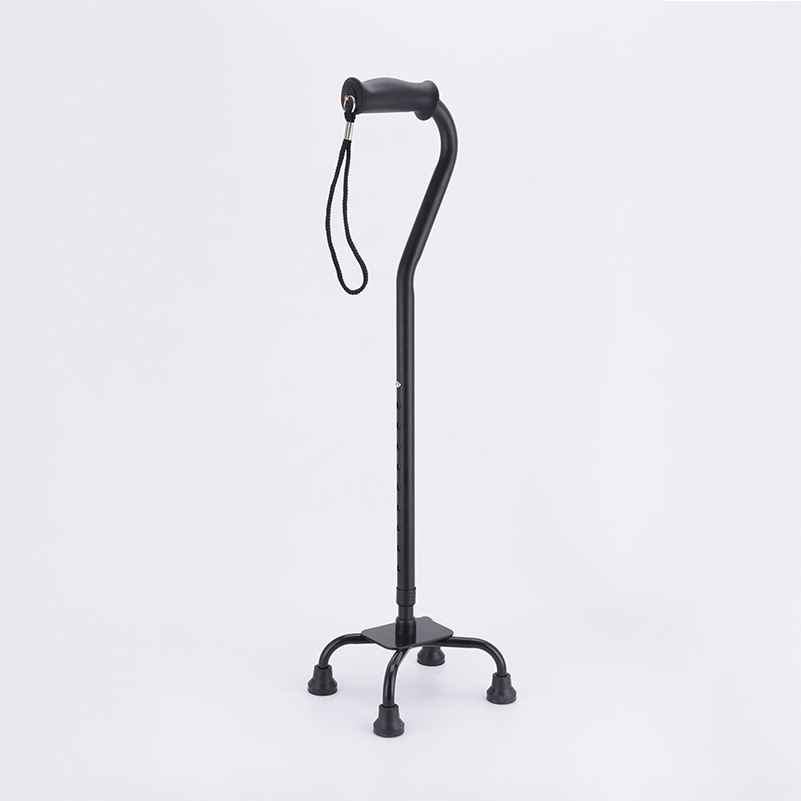 Specifications:
 Material: Aluminum alloy
Adjustable Heights: 31-40inches
Suitable for People from 5'1" to 6'6"
Max Capacity: 300LBS
Quad Cane and Anti-slip Nase
More Secure
At BareComfy, we're all about providing safe and secure walking canes for everyone to use and ease the discomfort of limited mobility. For added security, you need to tighten the lock around the cane if the silver button slipped for some reason.
Stays Upright and More Stabile
The cane stays upright at all times, so there is no need to struggle when bending down or picking something up. The BareComfy gives your more stability compared to other brands in less price.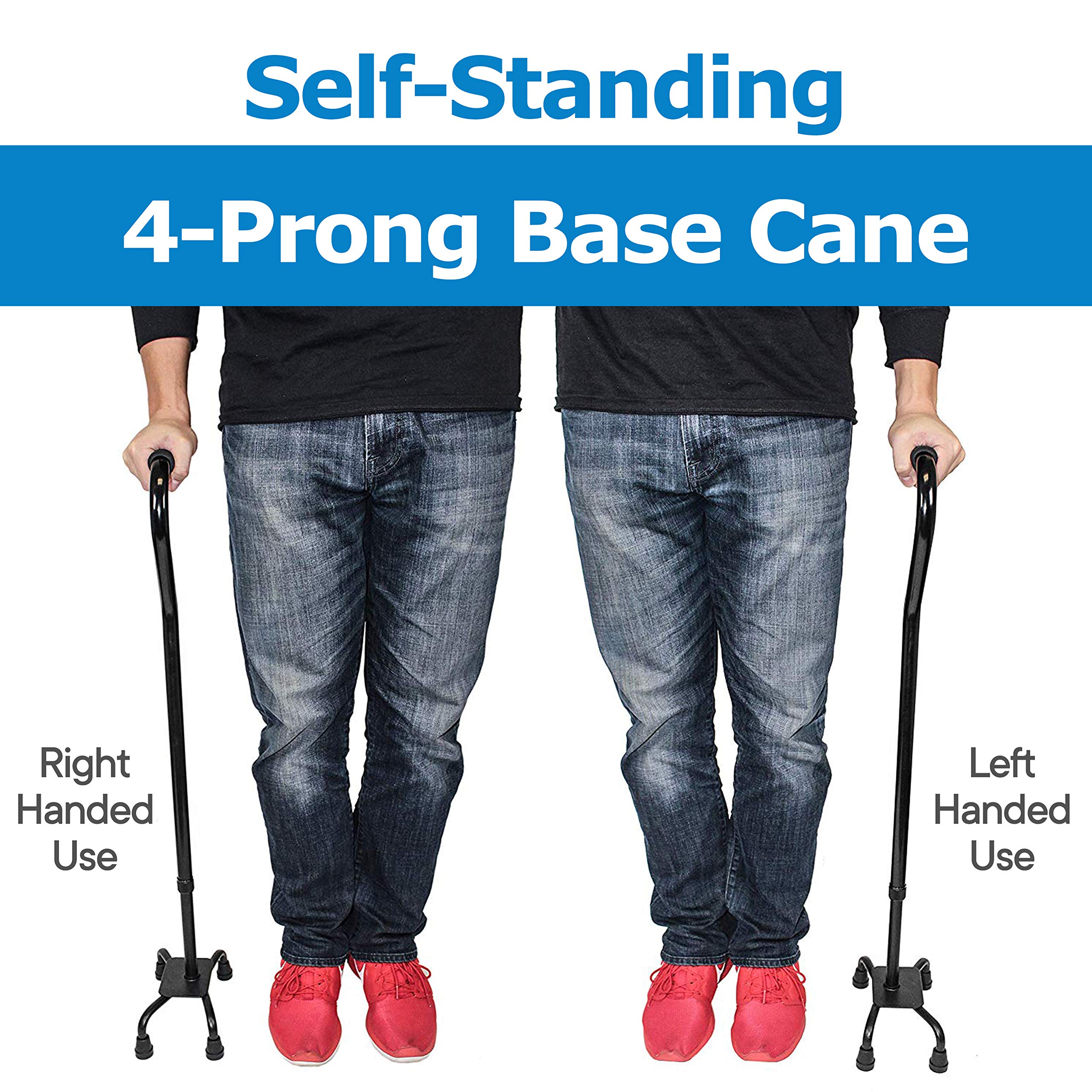 Adjustable Base
The RMS Quad is unique because it can be converted from left-handed to right-handed use by simply rotating the base. This design enables better handling and balancing while walking in terrains, bumpy roads, and so on.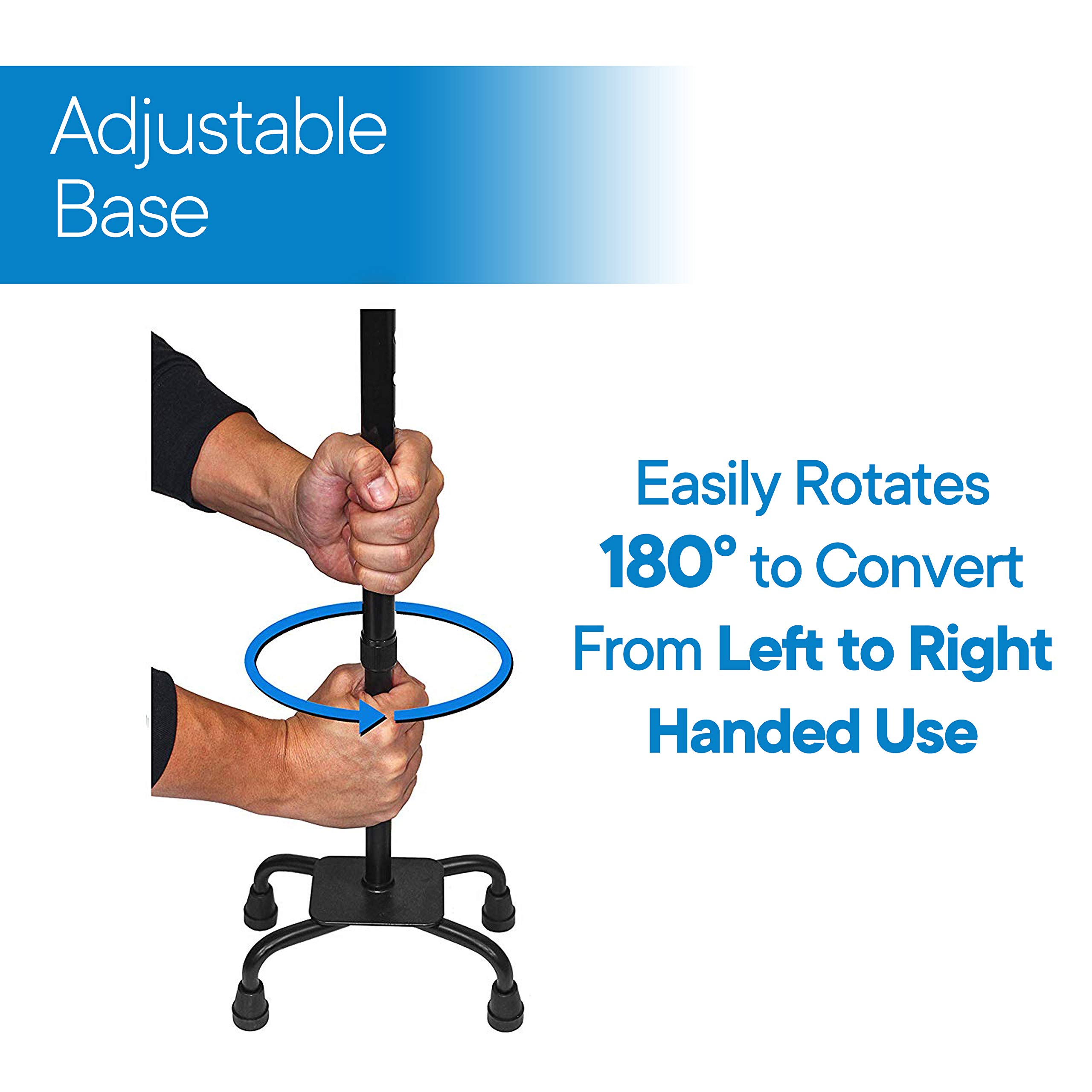 Soft Foam Padded Handle
Our cane has a soft, padded foam handle that evenly distributes pressure across the palm. This feature help relieve the pain you feel in your shoulder and wrist while walking with a cane. We've added this extra layer of support to guarantee comfort all the time.
4-Prong Base
The 4-prong base provides added stability over a traditional single base cane. It also has the added benefit of being freestanding—you can let go, and it stays upright!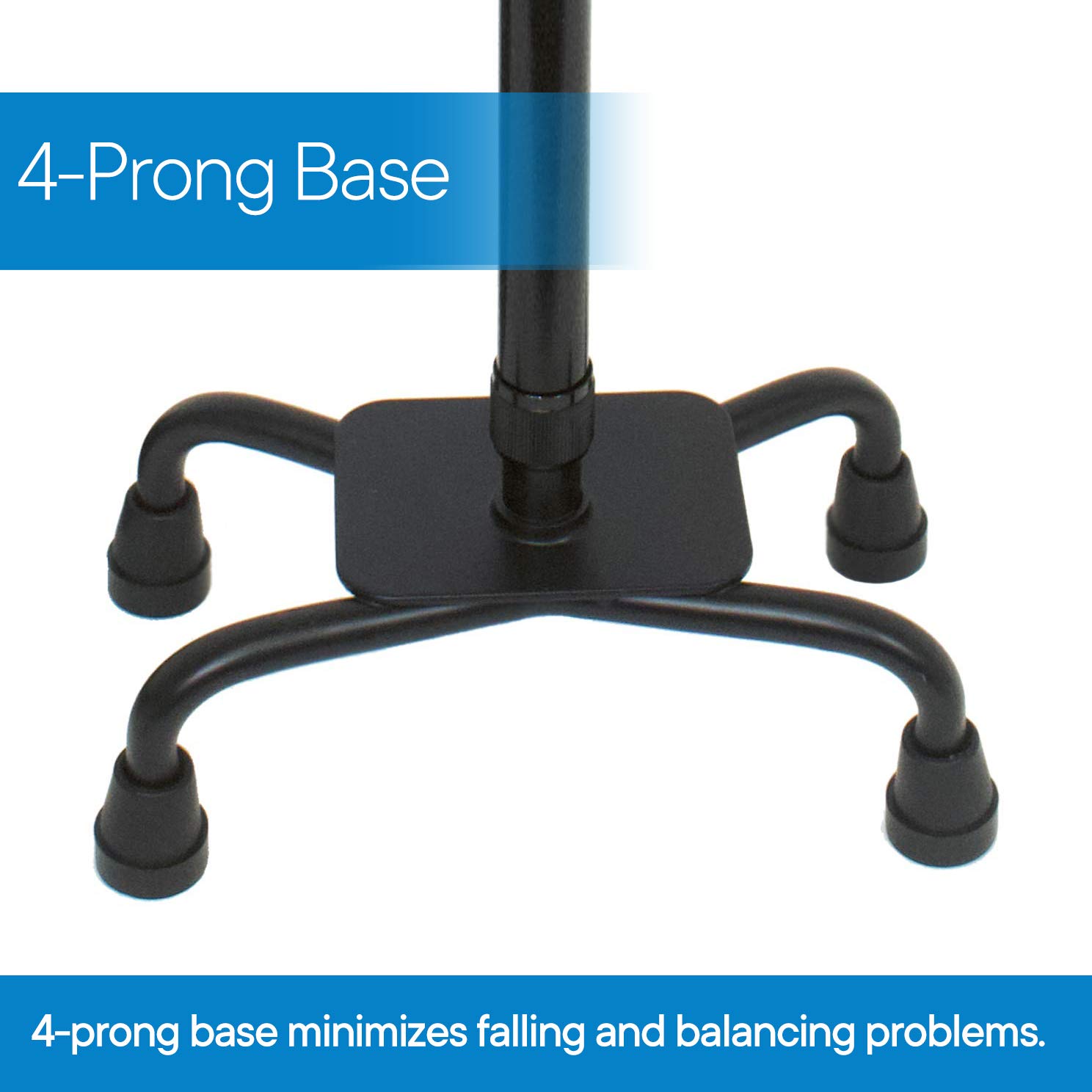 Package Includes:
1* BareComfy Walking Cane
1* Instruction