The Revolutionary Cane for Posture, Balance & Mobility!

The ingenious GuidyWalks Posture Walking Cane allows you to walk more upright, change your sight line to look forward instead of down, and improve overall posture. You'll be more perfectly balanced, safe, secure, and more comfortable when you walk with our ergonomically structured design.
Our secret lies in the revolutionary handle that takes the pressure off your shoulder and wrist, giving your body a lift and placing you in a natural upright position. This technique is suitable for elderlies struggling with osteoporosis and other back issues that slowly degrade their posture.

Revolutionary Handle, Better Posture
The handle is uniquely designed with an ergonomic grip.
It eliminates downward pressure associated with traditional canes, allowing a more comfortable position for your shoulder and wrist while walking.
The overall design of the GuidyWalks ensures all users stay upright and improve their posture as they go along using the walking cane in their daily lives.
Our goal is to help everyone who needs help walking by improving their mobility. We do this by offering the most suitable walking cane that supports proper posture and reinforces better comfort.

Excellent Design, Sturdy Walking Cane
The GuidyWalks centers on providing all our users with a practical, convenient, and comfortable walking cane through quality materials and impeccable designs.
Made of high-quality Aluminum Construction
Hold more than 300lbs
Revolutionary ergonomic grip handle
Durable 360° self-standing stability tip
Why Choose the Guidywalks?
With GuidyWalks, you'll be more perfectly balanced, safe, secure, and more comfortable when you walk. When it comes to doing your daily activities, its ergonomic design helps you get up and out of chairs easily, eliminating the struggle you usually encounter with traditional walking canes.
Our revolutionary handle ensures that you walk upright & change your line of sight, so you look forward instead of down, which significantly improves your overall posture. It supports the strength of your body dramatically and helps you move easier and feel less pain*!
Other Functions That Make a Difference!
The revolutionary handle takes the pressure off your shoulder and wrist. So regardless you're walking a regular street, terrain, or hills, the GuidyWalks will make every step as comfortable and secure as possible.
Standup stability tip with 360° traction for safe navigation.
12 different height adjustments to customize the fit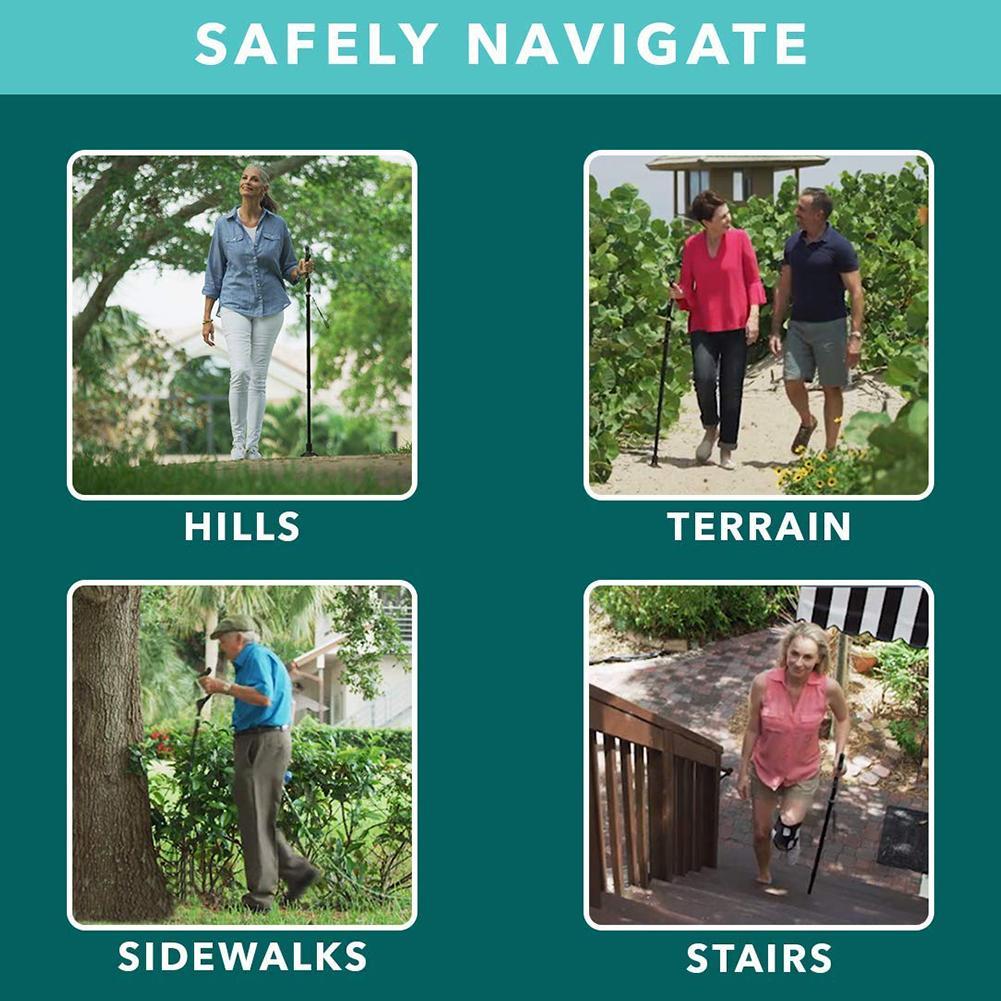 Package Include: