Our Snuggy Mommy G-shaped Pregnancy Pillow is not only a maternity pillow for pregnant women and breastfeeding mothers, but also a full-body pillow for any adults who are suffering from hip pain, fibromyalgia, sciatica, poor posture, athletes, people in physical therapy and recovering from an injury, or those who don't sleep well and want a good sleep.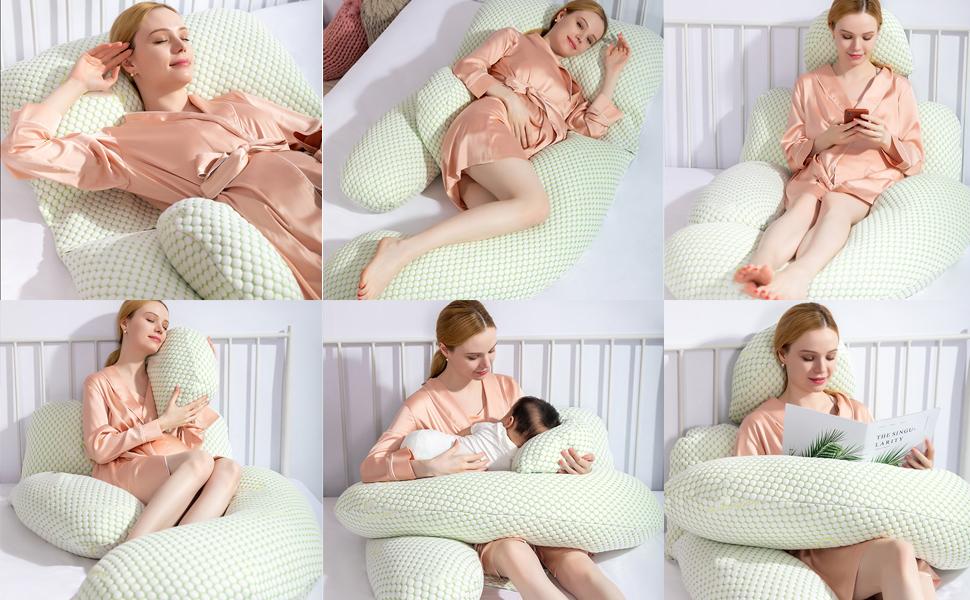 Features:
[VARIOUS FUNCTIONS] The Snuggy Mommy Full Body Pillow is suitable for the entire family to enjoy. Adults can use it to sleep right side, lie down, reading in bed, watching TV, nursing, proning, and breastfeeding for pregnant moms. The Snuggy Mommy support reduces pain and discomfort from the head, shoulders, back, tummy, abdomen, knees, legs to feet for unlimited relaxation.
[MULTI-SHAPES] You can disassemble this G-shape maternity pillow into an H, U, or C-shaped pillow. Moreover, an extra waist pillow has been prepared as a gift for you so that you can carry it anywhere anytime. As an all-in-one pillow, if the G-shape pillow is not needed, you can keep a waist pillow or head pillow as a common pillow.
[HUG YOUR BODY] Our total body pregnancy woman pillow is about 74″(L side) x 39″(S side) x 32″(W side), upgrade weight is about 7.2lbs/3.3kg. The newest style design will bring a comfortable sleep for various people not limited by any height and weight. The G-shape can function as a big spoon to hug and relax your whole body.
[SLEEP DEEPLY] The Snuggy Mommy comes with a 100% imported technical fabric that is comfortable, soft, and fashionable for a hugging design that you sleep like a baby. The upgrade full body pillow does not only function as your happy for better sleep but also to correct your sleeping position and solve most sleep problems, especially for pregnant mothers or people dealing with back pain.
[EASY TO CLEAN] This maternity pillow can be cleaned with a washer, in fact, easier than washing your clothes. All you need to do is open the zipper covers and take out the inner pillow, throw the outer pillowcase into the washer, then hang the inner pillow in the sun. Once it's dry, you can enjoy a fragrant, comfortable, and warm pillow to put you to sleep.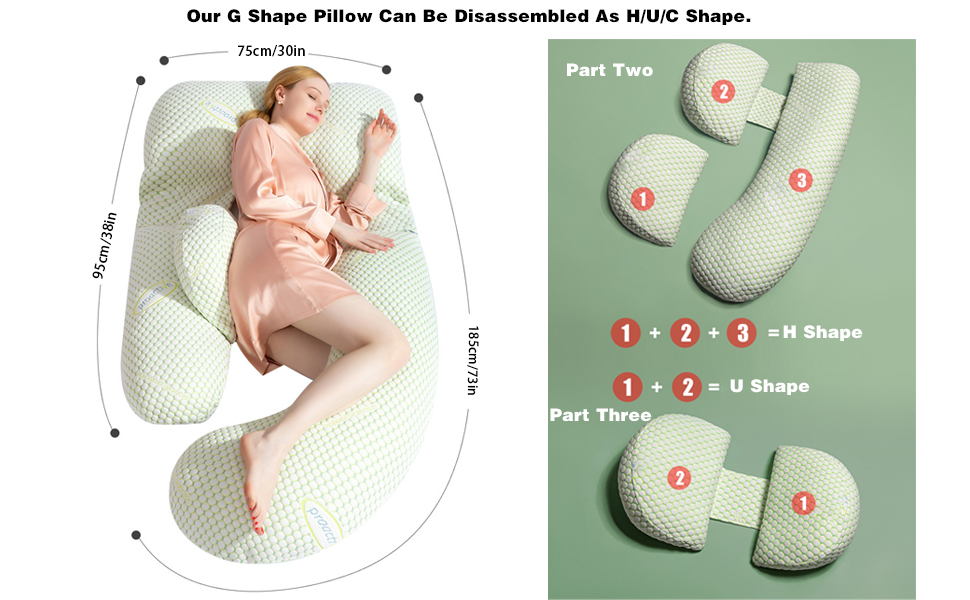 Why Choose Snuggy Mummy?
Suitable for Use: spring, summer, autumn, winter.
Special: detachable, extension, removable, and machine washable.
Supports Your body's Natural Curves: The inner curve functions as a back and belly supporter for pregnant women.
Improve Lumbar Support:  The Snuggy Mommy keeps mommy's back cushioned and the baby well-supported while nursing.
Better Nursing Position: Our pregnancy pillow design helps elevate your baby's position while nursing. This support makes both the mom and the baby stay at ease when feeding.
Your Happy Place: Creates a relaxed and comfortable position for sleeping, reading, nursing, watching TV, etc.
Multipurpose: The Snuggy Mummy is not only a pregnancy pillow but also a nursing pillow for everybody who needs more supporting, recovery, or likes to support their head, neck, legs, and back with a pillow. Of course, you can also use this pillow for sitting upright in bed to read, watch TV, or even work on your laptop.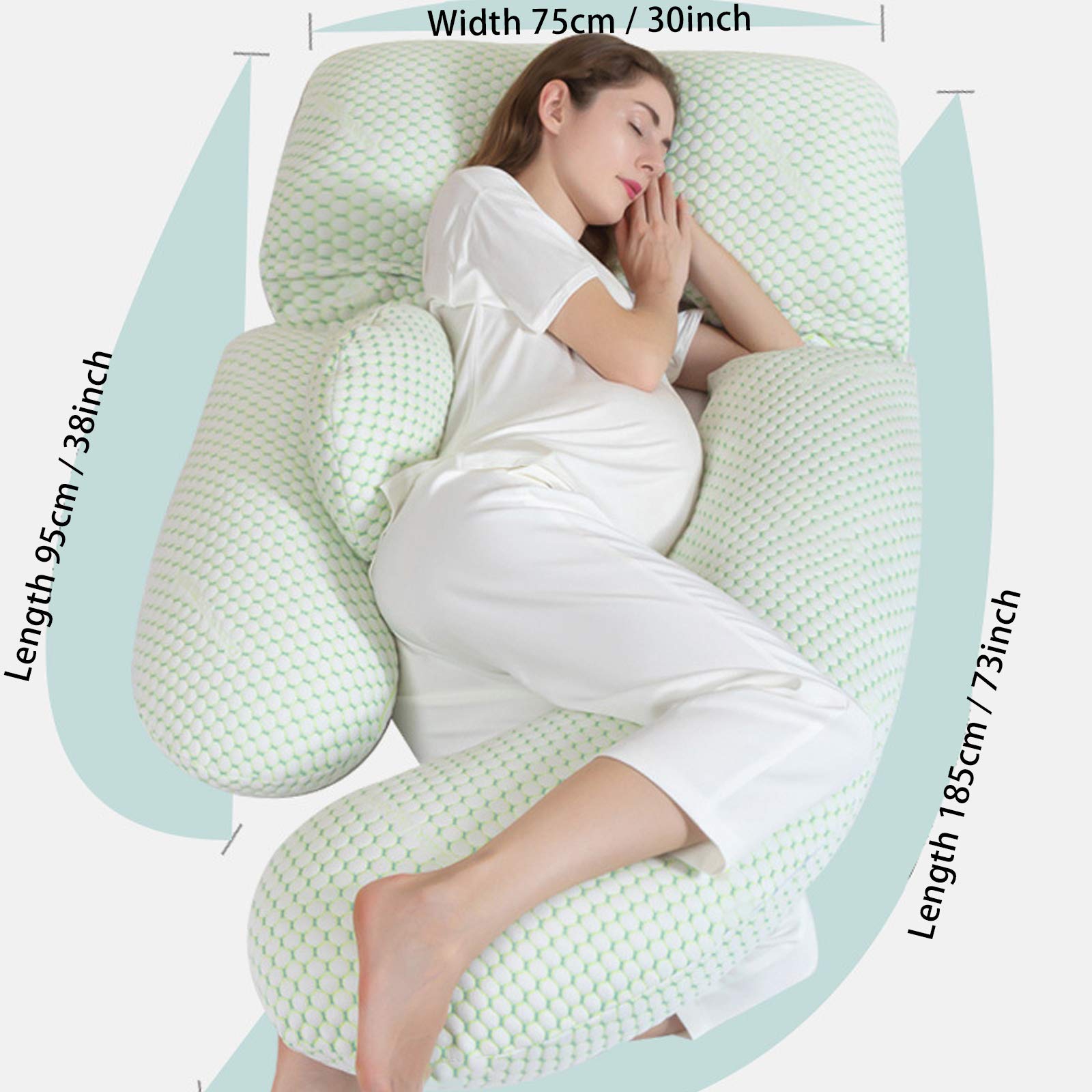 Detachable
Our G-shape maternity pillow is divided into four parts: head pillow, long side pillow, short side pillow, and waist pillow. You can disassemble or combine it into U-shape, C-shape, and H-shape at will according to your needs, or use it as an ordinary head pillow.
Fast Rebound
The filling is very elastic and light. No matter how you press the pillow, it will rebound in two seconds.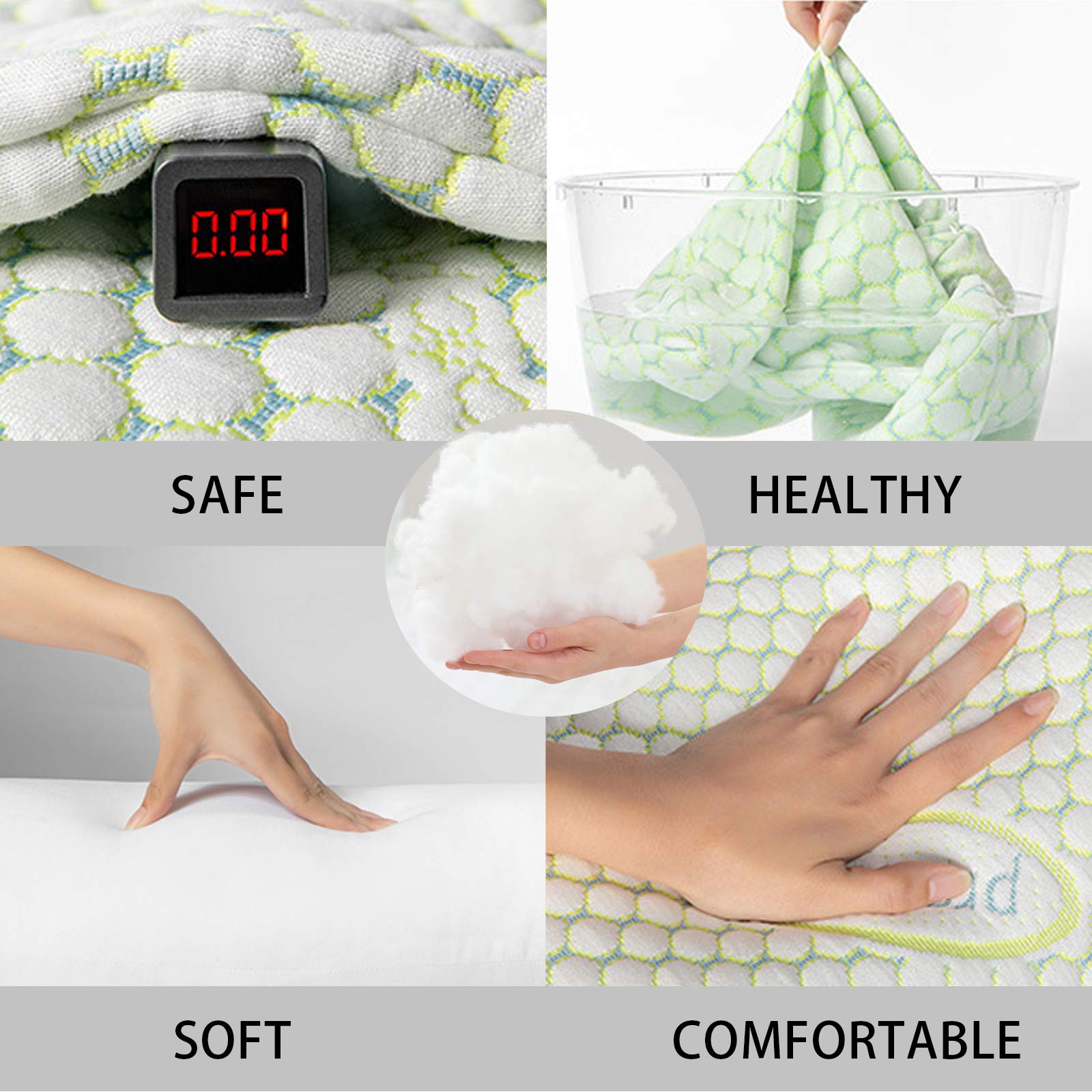 Internal Cotton
Adopting American DuPont Shu stretch yarn material, the Snuggy Mommy gives a soft and fluffy pillow with no deformation even after repeated stretching. Also, if you wash the pillow and expose it directly to the sun, it will not sag or harden.
Invisible Zipper
The Snuggy Mommy's invisible zipper design creates a safe and beautiful finish. With its double-stitch seams, our pregnancy pillow offers extra durability even after extended use. Also, this feature enables you to open the pillow conveniently and decrease the fillers according to your needs.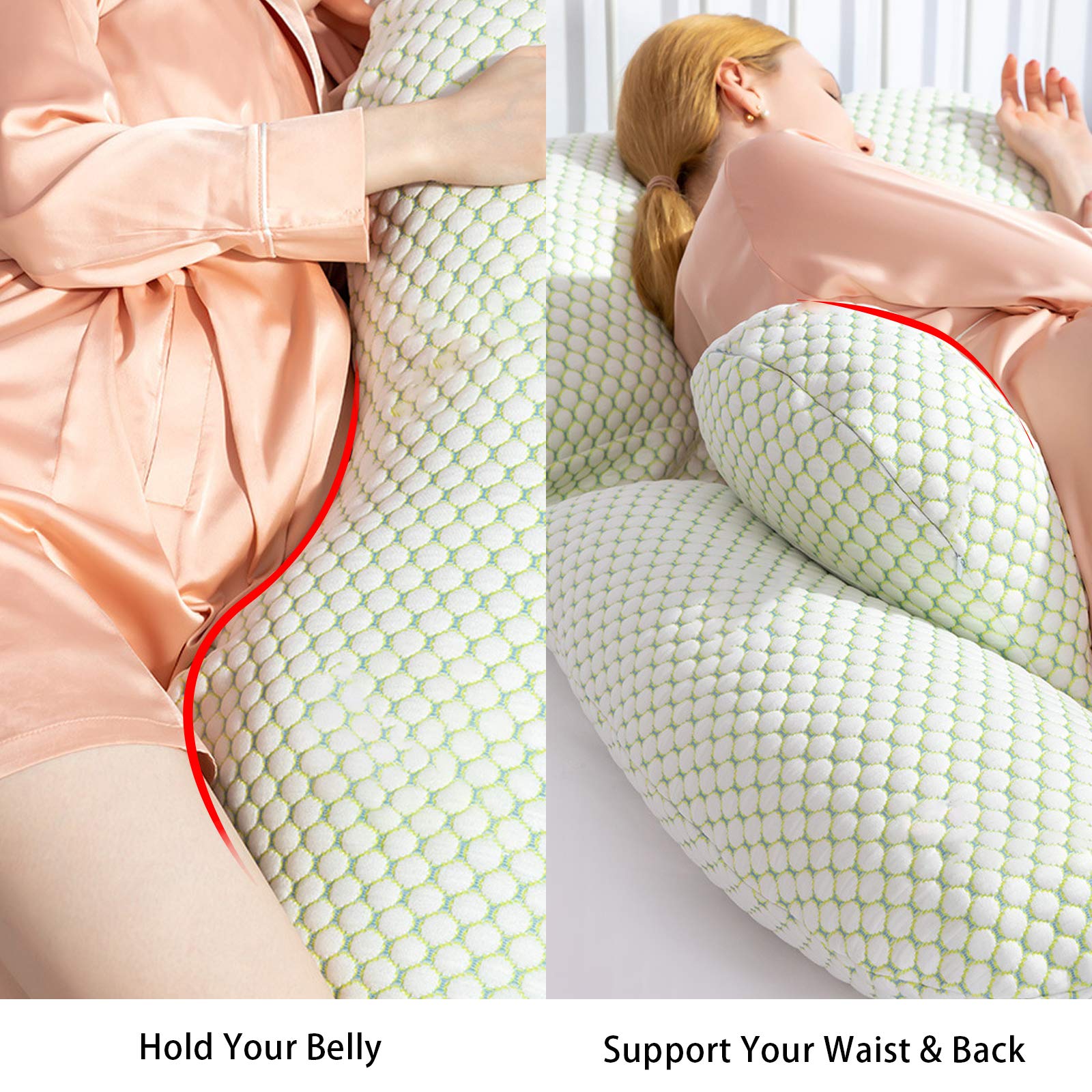 Easy Installation
Here's how you can easily install Snuggy Mommy's Five Pillows:
Put the pillow cores into the corresponding pillowcases.
Pull the zippers on the pillow up and connect the corresponding zipper parts (head pillow, long side pillow, and short side pillow).
The waists pillow does not need to be connected with zippers; just stick them directly with Velcro.
If there are any questions regarding installation, you can consult the video service sent to you.
Experience These Benefits
By relaxing your arms to your abdomen and correcting your sleeping position, the Snuggy Mommy could help relieve waist and back pain, swollen leg, and other body pains.
You can protect your cervical spine, relieve fibromyalgia and sciatica, protect your full body and keep them away from pain and muscle tension.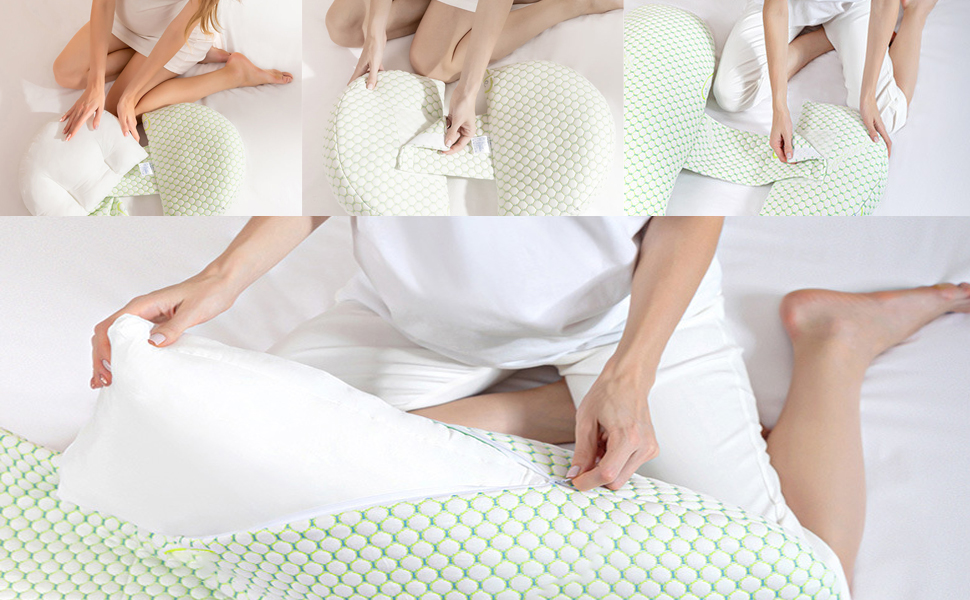 Package Include: