Find relief from back pain whenever you need it.
Introducing Momillow, the best inflatable Pregnancy Pillow and Mattress specifically designed to bring comfort to moms dealing with pregnancy back pain. This patented "O-hole" design help moms relieve tension and discomfort in their lower back. It allows them to stretch freely and resolve posture without causing any harming the baby.
Pregnant moms from all around the world love the Momillow! It's relaxing, comforting, and easy to use and store. Now is your chance to experience relief like never before.
Specifications:
Name: Momillow Pregnancy Pillow
Size: 32* 29 * 8cm
Colour: Pink, Blue, Beige
Material: Hollow Cotton
Benefits:
The patented design lowers legs to relieve back pain tension.
Momillow comes with an adjustable size to fit your belly bump perfectly.
Set your posture correctly, and get the best prenatal massage from your loved one.
The Momillow's overall comfort helps reduce the pressure on the fetal spine.
A quick and easy solution for pregnant mom's relaxation.
Why Choose Momillow?
The O-hole design reinforces better posture and relaxing positions that pregnant moms will appreciate.
Easy to use, store, fold, and carry, making the Momillow the suitable relaxation partner anywhere.
The Momillow comes with inflated pleated air chambers that can be adjusted according to pregnant mom's needs.
It includes a small angled bevel design for the legs to promote relief from back pressure and pain.
Moms worldwide trust the support and comfort Momillow brings.
Cozy bump, pregnancy pillow, the cozy bump pregnancy pillow, inflatable pregnancy pillow
The Advantage of Sleeping on Your Stomach with Momillow:
✅ Helps with Back, Shoulder, and Hip Pain: Constantly laying on your side has its disadvantage. It could either cause discomfort or pain, especially if you stayed too long, and sometimes, it annoys most pregnant moms since they can't find the right position to relieve the discomfort. Momillow's patented design allows pregnant moms to lay on their stomachs safely and with ease. The declined leg section puts gravity into play to relax the muscles at the upper and lower back to relieve discomfort effectively. With this, pregnant moms feel well-supported while relaxing their backs.
✅ Achieve Better Relaxation and Sleep: Sleeping on your stomach is a luxury for pregnant moms. They've been sleeping on their backs for too long that pain and tension build-up. With Momillow, they can finally lay on their stomach, stretch those tight muscles safely, and relax their body with ease. This support enables better relaxation and sleep for pregnant to release stress and wake up feeling happier and energetic.
✅ Tons Of Happy Customers: Momillow is one the most trusted pregnancy pillow on the market today. With hundreds of 5-star reviews, the Momillow is a great investment. Finally, experience your happy place with Momillow. Because Happy Mom, Happy Baby!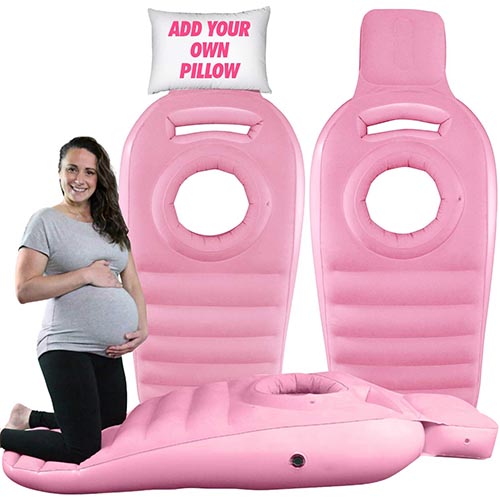 ✅ Take it Anywhere!: Momillow is 100% inflatable. It's easy to store, fold, and carry because pregnant moms need their happy place along with them on vacation too! You can use the Momillow anywhere. Use it in the pool, while getting tan, or indoors—Momillow will never disappoint.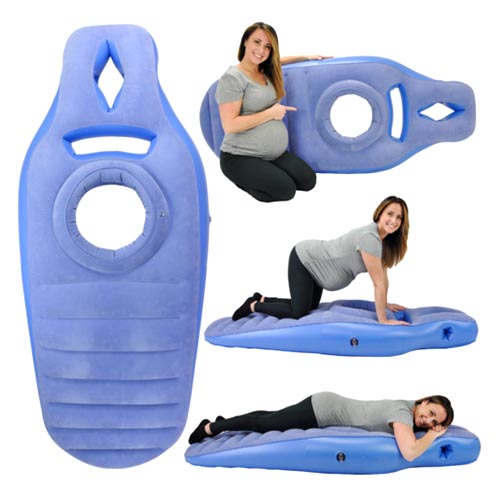 ✅ Great For Massages: Enjoy a relaxing massage from your loved one with Momillow. The pregnancy pillow's design reinforces a better positioning so that your partner or loved ones get better access to your back pain. We have included a special pregnancy massage guide that your loved ones could follow for free.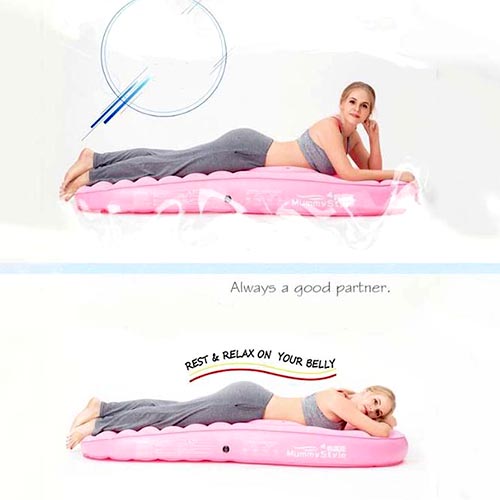 ✅ Relieve Baby Bump Back Pains: The Momillow helps you relax while supporting your baby. Our decline design allows you to stretch your back nicely and safely so that you can relieve tension and pressure building on your back.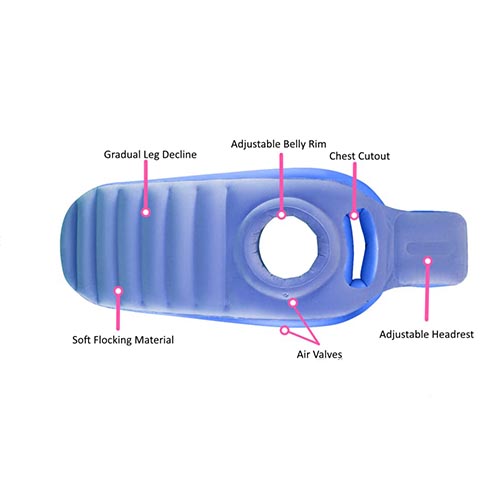 The mother's baby bump causes a significant amount of stress and tension on the back, and as time progress, this could lead to discomfort.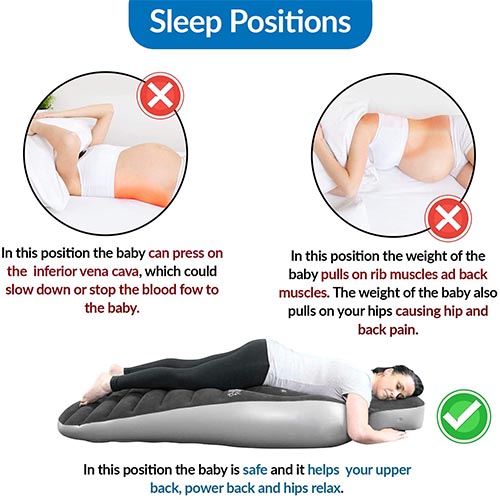 As shown in the photos below, even when standing up, pregnant moms' stressed areas are triggered, causing many discomforts. Momillow works to relieve these areas from stress by declining the leg section and allowing pregnant moms to lay on their stomachs. This method decompresses the tightness surrounding the back area, resulting in a relaxing sensation.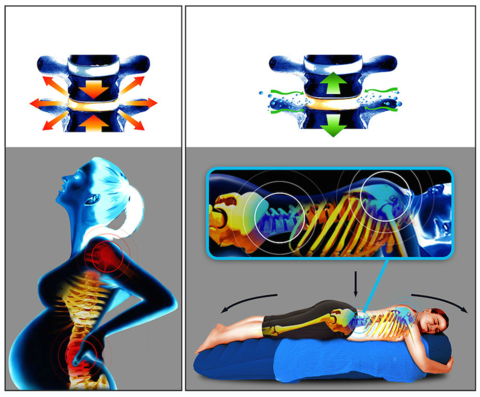 Why Having a Pregnancy Pillow is Important?
#1. Studies show that lying down on your back interrupts proper blood flow, especially for pregnant women. It compresses the Vena Cava, which is a crucial maternal blood vessel. If left unattended, this issue could harm the baby inside since blood flow is restricted.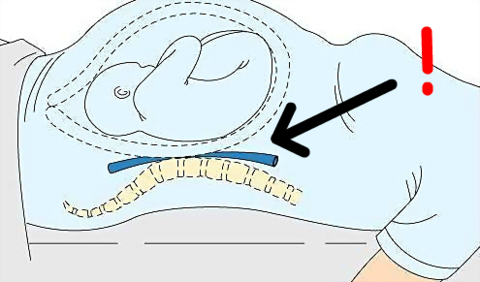 #2. Momillow puts you in a prone position to encourage proper blood flow. This position could also relieve pressure on the Inferior Vena Cava.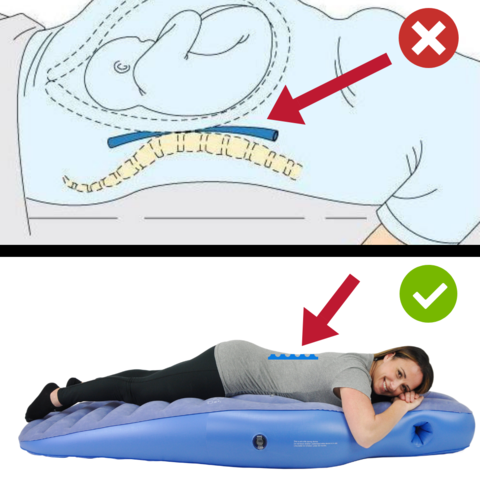 #3. Research also shows that an incorrect baby position can result in extremely unpleasant labor and increase the chance of having a C-section. Momillow helps avoid this situation by correcting your posture.

#4. The benefits of Momillow are similar to the ancient methods popular in Mexico and Guatemala called the Rebozo. This fabric is used in relaxing and repositioning mothers before childbirth.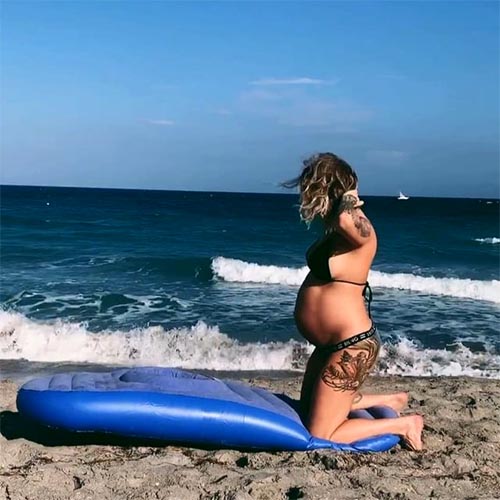 The traditional Rebozo technique was also utilized to relieve back pain using a "gentle sifting, rhythmic jiggle." This technique is effective in ensuring the baby is well-positioned, and the mother is well-relaxed before childbirth.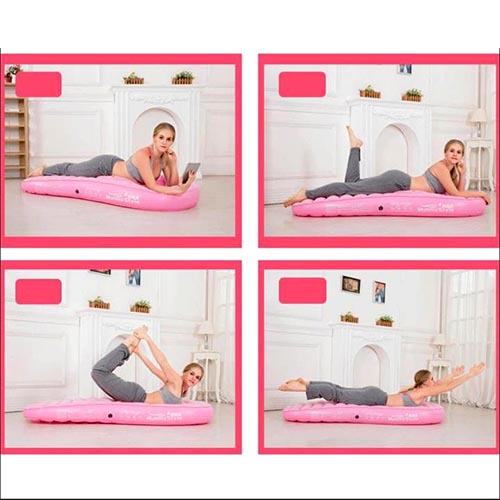 Momillow applies this traditional technique to give your a well-rounded pregnancy pillow that could support moms throughout their pregnancy journey.


Packing Include: