BackVital

: Your 30 Minutes Posture Correcting Regimen

Are you someone who constantly suffers from neck and back pain? It might be because your posture is out of alignment. BackVital 30-minute posture correcting regimen could help you build a better posture.
Fix Slouching Instantly, Relieve Back & Neck Pain From Poor Posture, and Look Confident—with BackVital!
Poor posture could lead to severe health issues that affect your overall well-being. If left untreated, it could cause muscle strain, back and neck pain, and possibly weak flexibility and balance. With BackVital's 30-minute regimen, you can start making good and healthy posture a habit and bring back your self-confidence.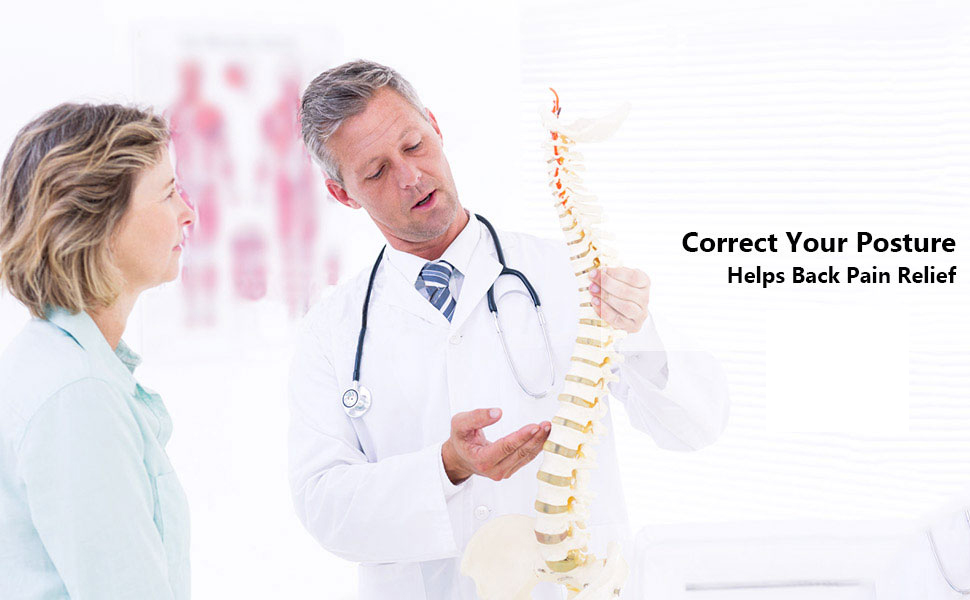 Experience Relief from Back and Neck Pain Effortlessly!
Most of our daily activities affect our posture, and for some of us, it has become a habit to slouch and sit for long hours. Millions of people suffer from poor posture, leading to a decrease in their quality of life and well-being. The worst part is, if left uncorrected, it could lead to serious health concerns that may be too late to treat.
That's why BackVital is here to help bring back a healthy and confident posture. With as simple as a 30-minute posture correcting regimen, you can make good posture a habit and end slouching that you've been accustomed to for years. BackVital works to counteract these kinds of regular activities and reinforce an upright position so that you can start building a better posture!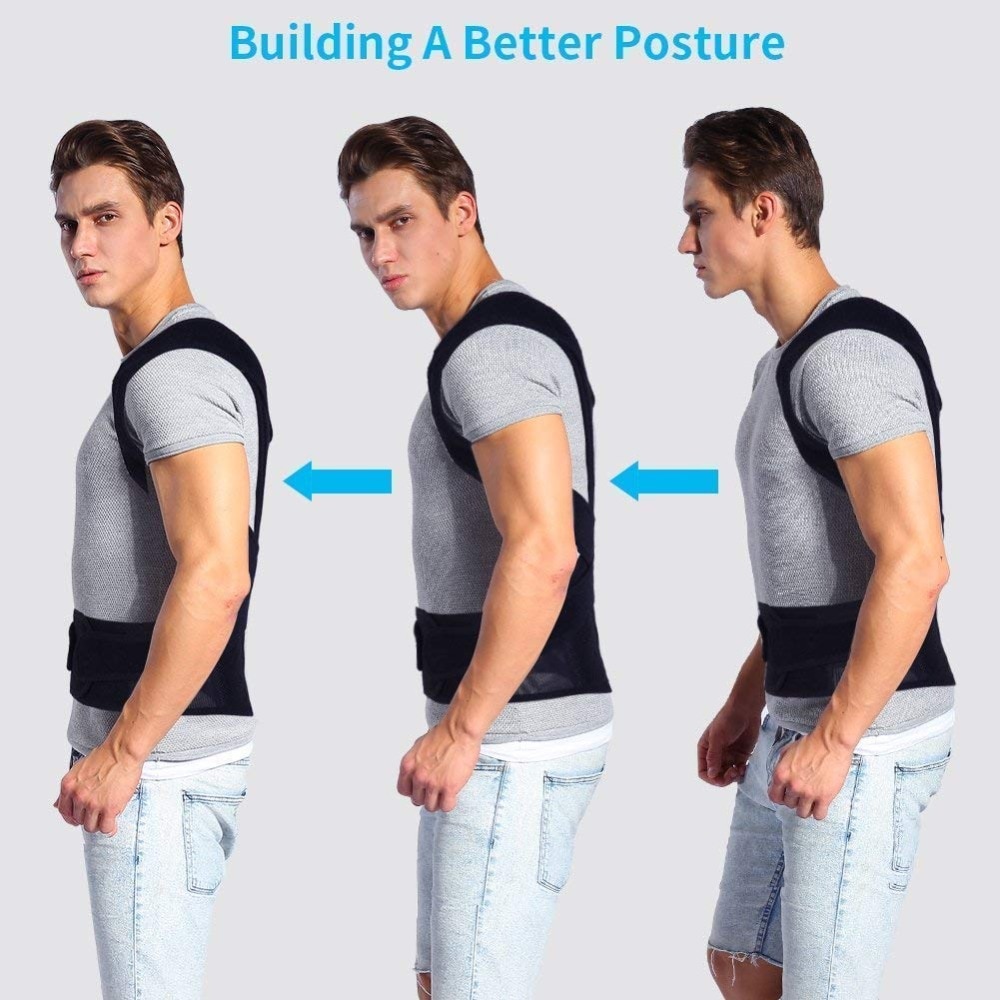 After years of suffering from neck and back pain from too much slouching and hunching, BackVital has helped win back my good posture and relieve the pain I often experience after a long day at work — Steve, Verified Purchase
Introducing Your Newest Must-Have for Health and Wellness!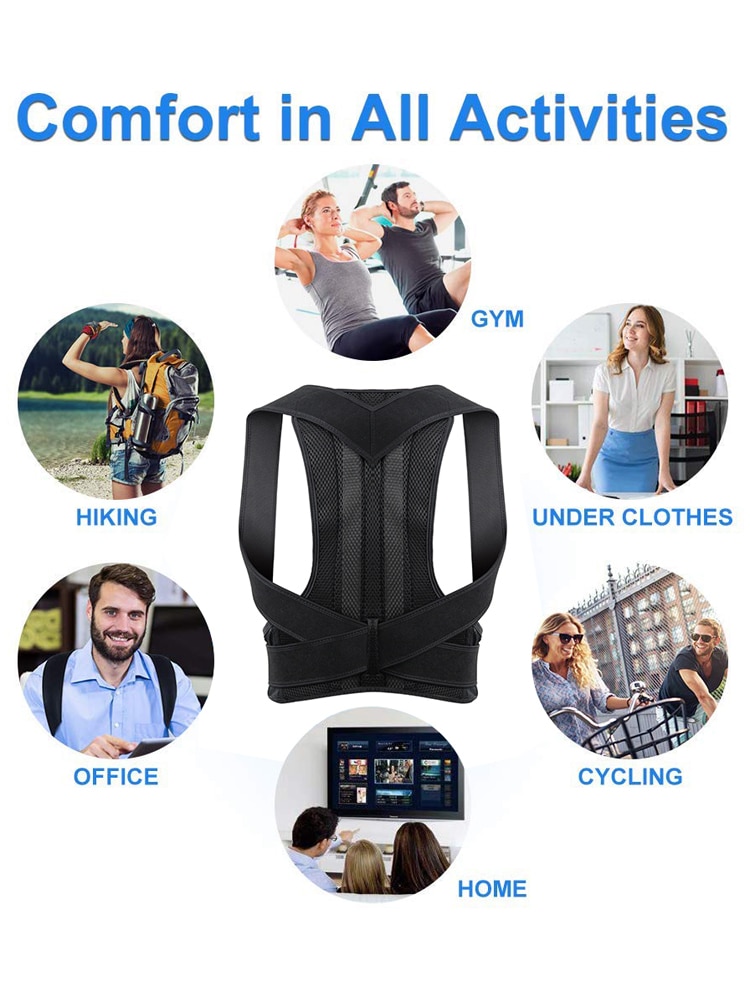 Long Hours? No Problem!
With BackVital's full-back aluminum plate, you can take a rest and have your spine fully stretched in all directions to promote an upright position. If you are in a situation of sitting or performing a task at the same place for many hours, BackVital supports your back effortlessly and effectively so that you'll stay productive and unbothered by the neck, shoulder, and back pains you often experience.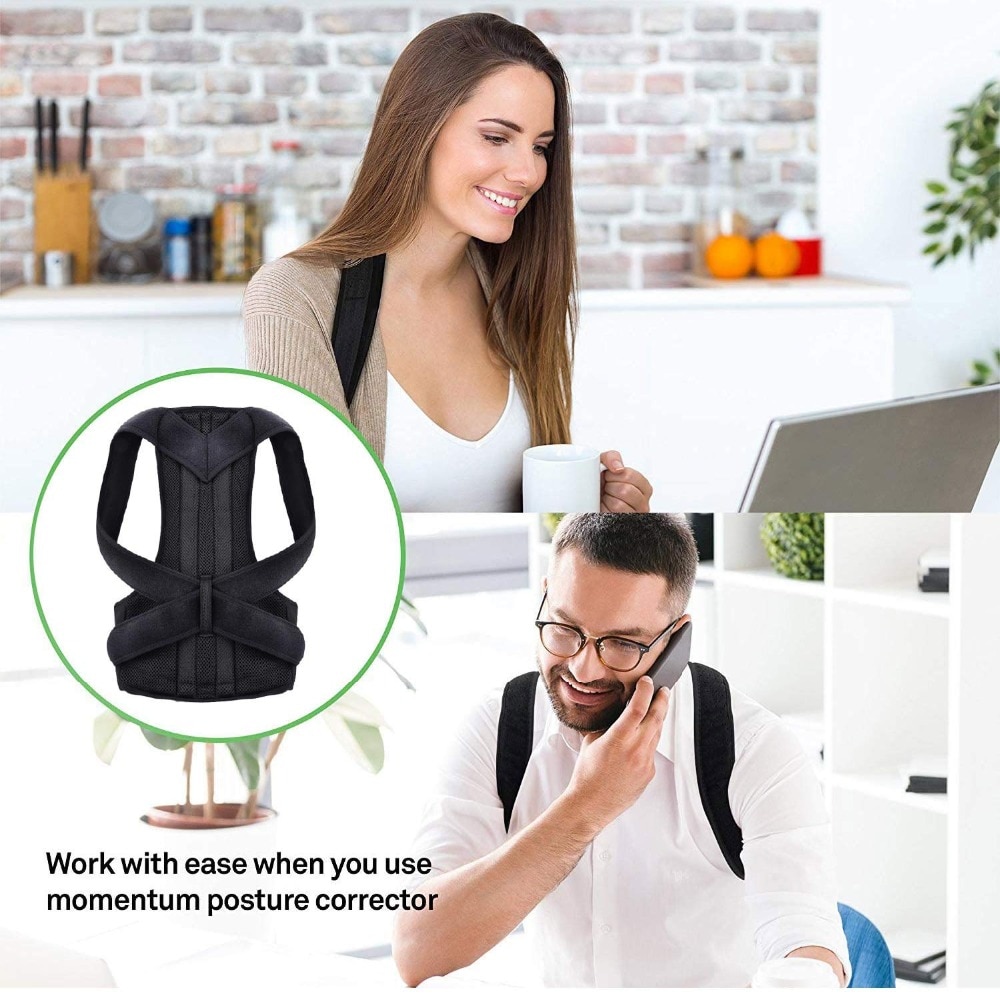 It's Designed for All-Day Comfort!
The material used for the back straightener is breathable, lightweight, and comfortable. It won't cause cuts, marks, or any discomfort you've experienced from other posture correctors. Our design centers on delivering comfort with the help of modern technology. That being said, we've fitted an improved strap and breathable, hypoallergenic materials so that you can go about your day as normal as possible. The BackVital Full-Back Posture Corrector will not interfere with whatever it is you do. You should be able to work in your office, cook, clean, walk, run, and do anything that you would normally do.

How to Use?
Pull shoulder straps over shoulders, making sure that the elastic cloth is closest to your body.
 Stretch waist belt around torso and fasten.
Adjust position and snugness as needed. Shoulder straps should pull back slightly on the shoulder area.
Note: If needed, pull the waist belt down slightly to increase shoulder pressure.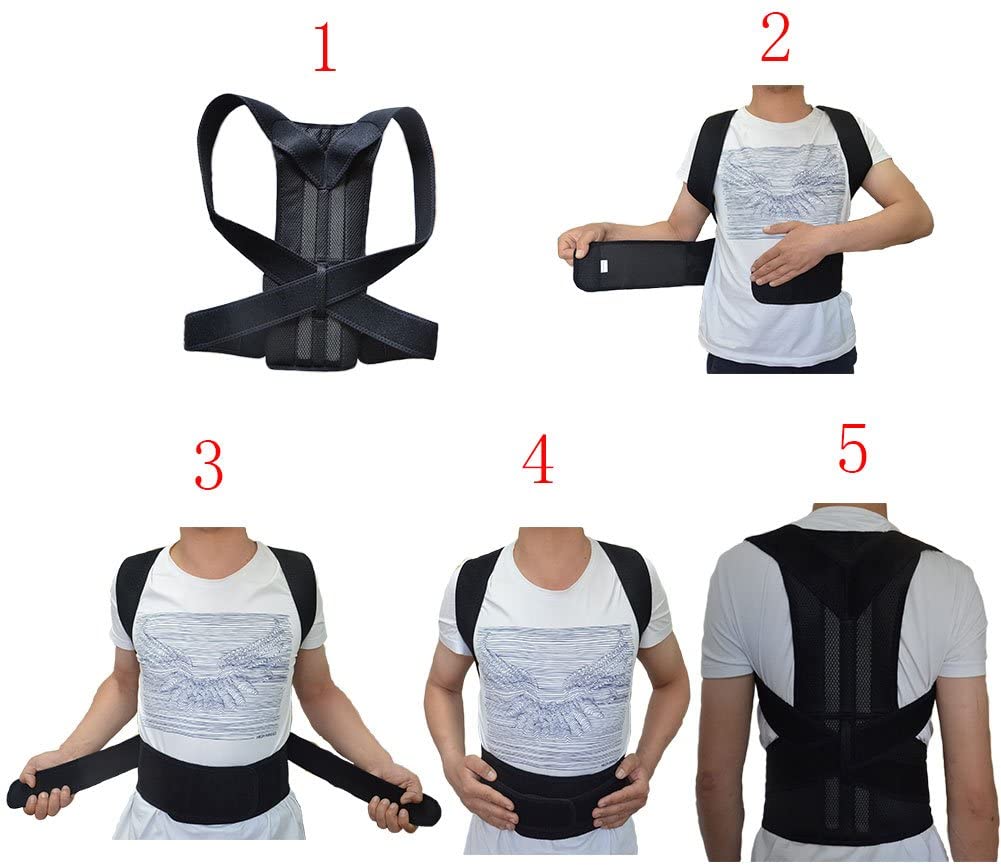 BackVital Features:
✅BACK BRACE: BackVital's back brace for posture correction provides effective support to your back and shoulder. It maintains the proper alignment of your upper and lower back to fix your posture and relieve back pain. If you like getting massages, you can use the BackVital to provide an extra set of support to accommodate muscle healing. Meanwhile, if you spend long hours in the office, BackVital ensures you maintain your good posture while performing multiple tasks.
✅FULL BACK AND ERGONOMICS DESIGN: BackVital supports your back, shoulders, and waist to relieve back pain and promote a healthy posture. Our design uses the Y-design principle to stretch both sides of the straps to prevent slouching or hunching. The attached belt works to support the lower back and waist while keeping the shoulder straps stretched to ensure you keep your back straight when standing or sitting. On the other hand, the

two sets of aluminum strips provide extra support and reduce the load on the spine and muscles.

✅EASY AND COMFORTABLE TO WEAR: Our BackVital is made with breathable and soft neoprene for a soft and skin-friendly corrector that both men and women could comfortably wear. Even if you wear it for 2 hours or more per day, you'll still feel relaxed and comfortable. You can use the BackVital while working, watching TV, etc., and remain unbothered by BackVital's straps. NOTE: Please avoid using the BackVital while sleeping or exercising.
✅DIFFERENT SIZES AND ADJUSTABLE: BackVital has 5 kinds of sizes to choose from according to your waist size. Please see the sizing guide below. If in case your size isn't available, please feel free to contact us.
Sizing Guide:
   Size                          Waist                                       Height                                       Weight                           Clothing Height          Belt Length
S:           85-93cm/33.4-36.6in             140-160cm/55.1-62.9in         30-40kg/66.14-88.18lb                  37cm/14.5in               75cm/29.5in

M:         90-96cm/35.4-37.7in              155-165cm/61-64.9in             40-50kg/88.18-110.23lb                37cm/14.5in               80cm/31.4in

L:          95-103cm/37.4-40.5in            160-170cm/62.9-66.9in         50-60kg/110.23-132.28lb              37cm/14.5in              85cm/33.4in

XL:       98-108cm/38.5-42.5in           165-175cm/64.9-68.8in          60-70kg/132.28-154.32lb              37cm/14.5in              90cm/35.4in

2XL:    103-112cm/40.5-44.1in           170-180cm/66.9-70.8in         70-80kg/154.32-176.37lb               37cm/14.5in              95cm/37.4in

3XL:    108-115cm/42.5-45.2in           175-185cm/68.8-72.8in         80-90kg/176.37-198.42lb               37cm/14.5in             100cm/39.3in

4XL:    112-120cm/44.1-47.2in           180-190cm/70.8-74.8in        90-100kg/198.42-220.46lb             37cm/14.5in             105cm/41.3in


5XL:    116-125cm/45.6-49.2in           190cm-200/74.8-78.7in        100-110kg/220.46-242.51lb            37cm/14.5in             110cm/43.3in
Please refer to your height as standard.
Package Include: