It's the Leg Massager You Need!
When it comes to keeping your feet, legs, and calves relaxed at home; there's nothing that works best than Relusso. Our 3-mode Leg Massager is one the most trusted products for relieving pain and inducing comfort in the market today—all thanks to its one-of-a-kind design that gets the job done perfectly and efficiently.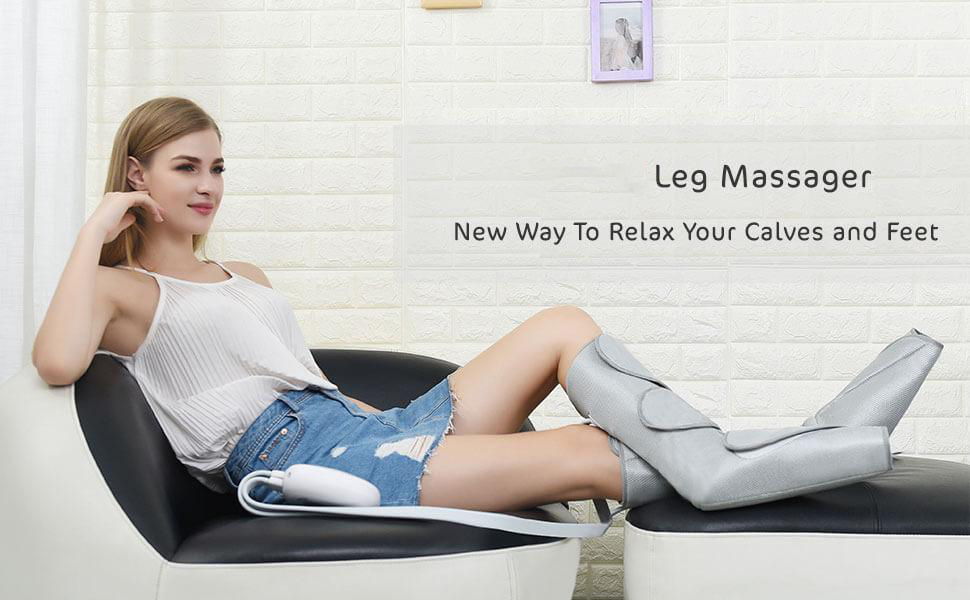 The Relusso Calf and Leg Massages is a new way to relax at home after a long day of standing or exercising. For fitness enthusiasts who often experience DOMS or Delayed-Onset Muscle Soreness, the Relusso is your accessible and effective solution to overcome the discomfort. Just by using it for 20 minutes once or twice a day, it can relax your muscles and nerves to relieve fatigue and promote blood circulation for self-healing.
Experience Relusso's multiple massage modes and witness the difference. This simple, at-home pain solution will get you feeling better right away! It's time to say goodbye to expensive massage therapies—book your relaxation at home with Relusso!
Product Highlights
6 Modes and 3 Intensities: The Relusso Leg Massager comes with 6 modes and 3 intensities that are PERFECTLY selectable for you. You can easily control the leg massager with the handheld controller and find the right combination of modes that suit your pressure requirement and relaxation needs.
Safe and Portable Design: We've added an auto shut-off feature to accommodate a safer and user-friendly massager that both adults and the elderly will love. With this feature, the device automatically turns off after 20 minutes to prevent the handheld controller from overheating. It is also perfect for those who use the devices to induce sleep since you don't have to get up and turn the massager manually. All in all, the portable design and smart features of the Relusso Leg Massager make it the BEST CHOICE for relaxation at your home, office, or even while traveling.
Air Leg Calf Compression Massager: As we said, you can say goodbye to expensive massage treatments. You don't have to go out of your home to relieve yourself from leg and calf pains. Bring comfort and relaxation at home with Relusso, relax your muscle, improve blood circulation, and reduce edema and RLS (Restless Legs Syndrome).
Adjustable Leg Wrap Size: Use the Relusso with ease and comfort using its adjustable velcro straps. The calf boot size is up to 24.8 inches in circumference, which is perfect for all sizes.
Advanced Heat Function: Sometimes, massages alone are not enough to host the perfect relaxation for you. A little heat therapy will make it a complete experience. You can use Relusso's heat function to add warmth and effectively relieve pain and fatigue.
Spa-Quality Massage At Home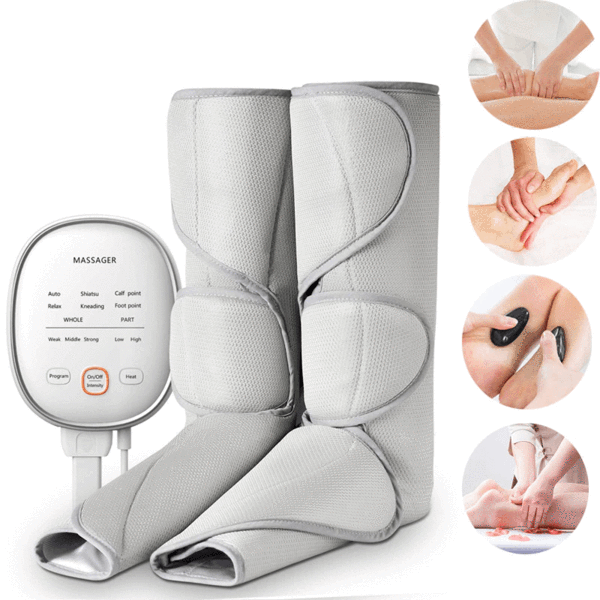 The Relusso is designed to mimic and stimulate pressure similar to your favorite massage therapy. It's perfect for relieving muscle tension buildup after a long day of work to pain caused by exercising. Its 3 massage sequences and 2 individual massage areas cover the feet and calves and provide different and relaxing massage experiences. You can also select your preferred pressure and intensity to suit your relaxation desires. The Relusso is the all-in-one massager that helps you get rid of muscle fatigue and promote exercise recovery.
Multiple Settings to Meet Your Needs

Made from Quality and Safe Materials
The Relusso's inner lining is made from soft and safe materials that add to the comfort and relaxation it brings. Its high-quality Velcro straps will ensure the leg massager fits perfectly for better effects and retain the device's effectiveness even after 10,000 uses. Additionally, the 15-minute auto-shut-off timer prevents the massager from overheating. Overall, the Relusso comes with all the right features—built with safety in mind, especially for elderly users who may fall asleep with the device on.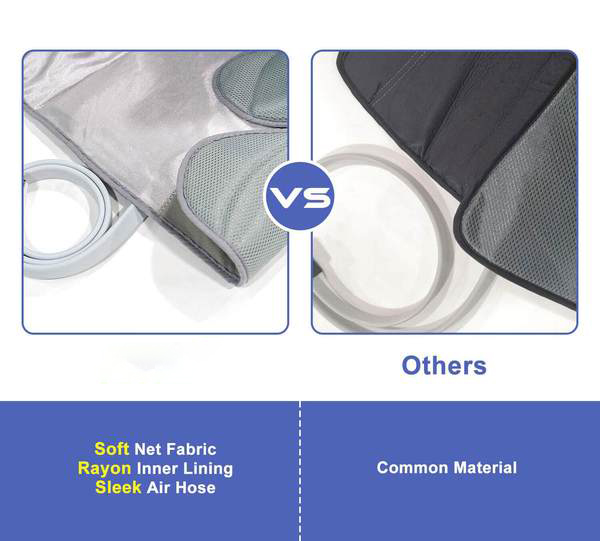 Adjusts to Fit Most Leg Sizes
The calf's wrap size is up to 21.5 inches in circumference, sufficient to accommodate various leg sizes. The velcro straps all work to ensure it fits perfectly without worrying about falling off while in use. We guarantee that the Relusso is versatile enough to fit the entire family.
The recommendation size for better reference:
Fit the feet size between 7.9inch-12inch in circumference.
Fit the calves size between 11.8inch-18inch in circumference.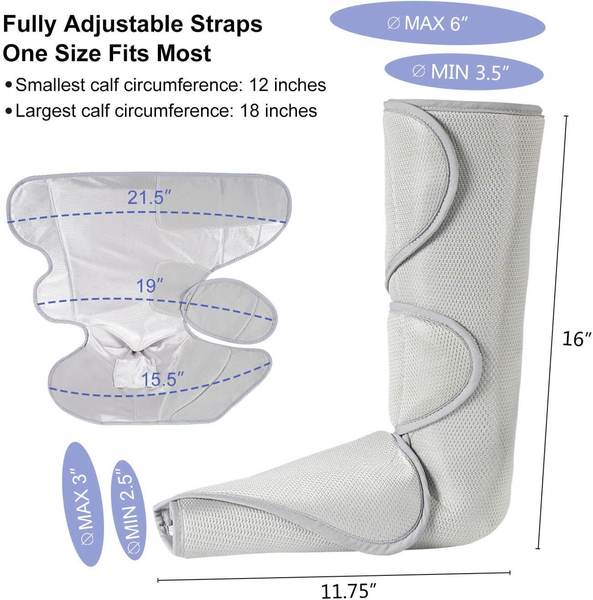 Installation Guide
Step 1: Take out leg wraps.
Step 2: Fasten the self-adhesive straps from toe to calf.
Step 3: Insert 2 hose connectors.
Step 4: Connect the power adapter.
Step 5: Click the power button to turn it on.
Step 6: Choose the massage mode and intensity you prefer.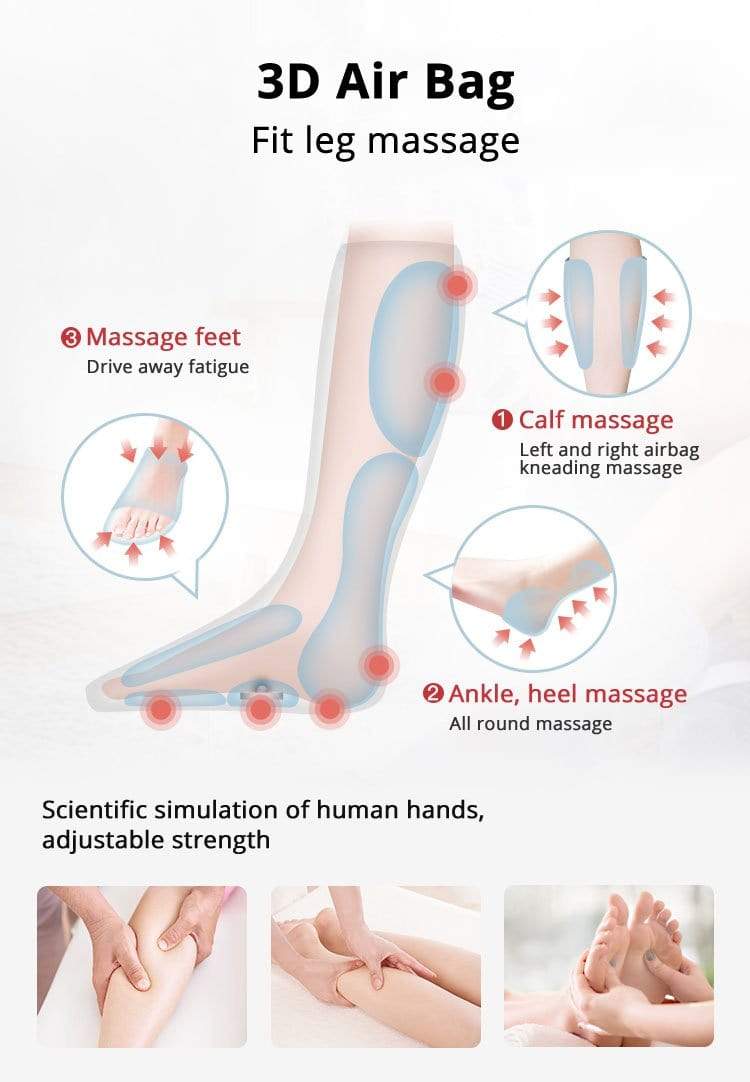 The Relusso is Designed For:
People who suffer from cold and fatigued legs require an accessible pain solution at home to relax their muscles and promote self-healing.
People who stand or sit for long periods of time suffer from tired, aching feet and wish for a massage to relieve tension.
Active people in need of exercise recovery, like biking, dancing, climbing, and doing Yoga.
Middle-aged and older adults.
Key Points to Note:
When wearing the wraps, please ensure the corresponding wraps for Left and Right Legs.
Choose the lowest intensity first and ensure the fit is not too tight. It is highly recommended to leave 4 fingers gap for safety purposes.
Please consult a doctor if you are pregnant, suffer from skin infections, use a pacemaker or another serious medical condition before using the device.
Package List:
2 * Massage Cuffs
1 * Controller
1 * Adapter (US Plug)
1 * User Manual
FAQ for Leg Massagers
Do leg massagers work?
Leg massagers may or may not reduce the recovery time needed following a workout, but they should improve blood circulation and muscle relaxation. Some athletes use the leg massager to reduce cramping while the muscles cool down.
Do air compression leg massagers work?
A compression leg massager is a simple but effective device. It improves blood circulation and relieves stress by compressing your legs and feet. This allows fresh blood to enter and nourish the cells with oxygen and nutrients.
Do leg massagers help with circulation?
A massage increases circulation by stimulating your nervous system and reducing pain and tension in your muscles.
Are leg massagers safe?
Many professionals recommend a 30-minute leg massage. While not specified in the instruction manual, 30 minutes of leg massage should be enough for most users. A leg massager can cause muscle damage if used too intensely and strapped to the leg too tightly.
Is it okay to massage a clot in your legs?
You should avoid massaging your legs while receiving DVT treatment, as it may cause the blood clot to break loose. Also, if your surgery is scheduled, ask your surgeon how you can prevent blood clots after the procedure.