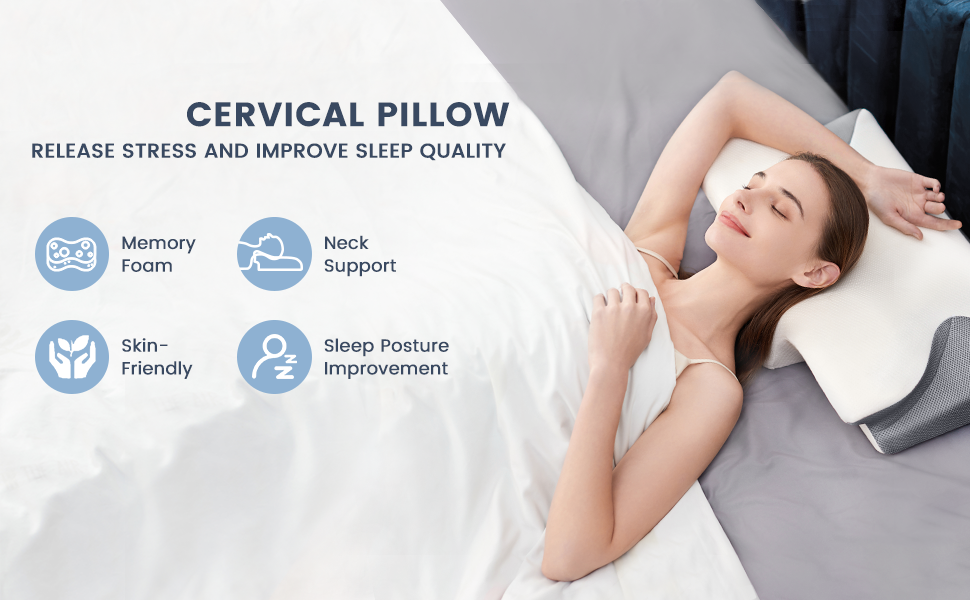 Hey there, sleep enthusiast! 🌙 Ever had one of those mornings where you wake up feeling like you've just had the best sleep of your life? No? Well, let's change that, shall we? Introducing the RejuvaRest Orthopedic Cervical Pillow – the unsung hero of dreamy nights and even dreamier mornings.
Imagine a pillow that doesn't just cradle your head, but also whispers sweet lullabies to your neck and spine. A pillow that promises not just sleep, but a deep, rejuvenating slumber. With its advanced contour design, RejuvaRest is like that comforting hug you didn't know you needed. It's the perfect blend of support and softness, ensuring you wake up feeling refreshed, recharged, and ready to conquer the day. So, if you're on a quest for that elusive perfect night's sleep, look no further. Your dream pillow has arrived, and it's ready to transport you to the land of sweet dreams and pain-free mornings. Ready to hop on board? 🌟🛌🚀
Cradle Me, Contour!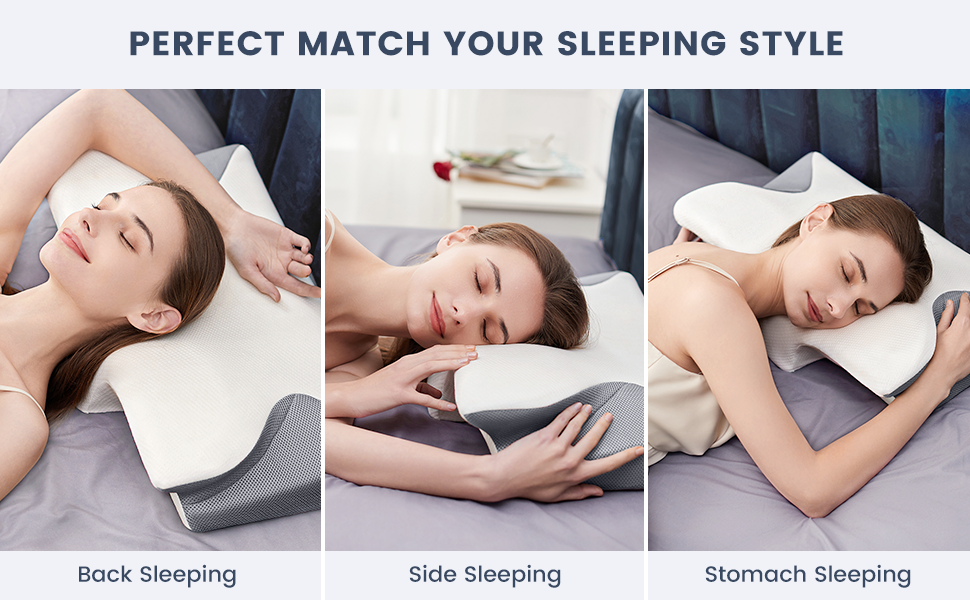 That advanced contour design isn't just for show. It's like having a personal chiropractor minus the appointments. This design ensures your neck and spine get the royal treatment, aligning perfectly for a pain-free morning. Wake up feeling like you've had a week-long spa retreat.
Dive into Dreamland
Ever chased a deep, restorative sleep? With the RejuvaRest, it's not a chase; it's a guarantee. This pillow is like a lullaby for your head, ensuring you dive deep into dreamland and wake up feeling like you've slept for a decade.
Goodbye, Neck Nuisances!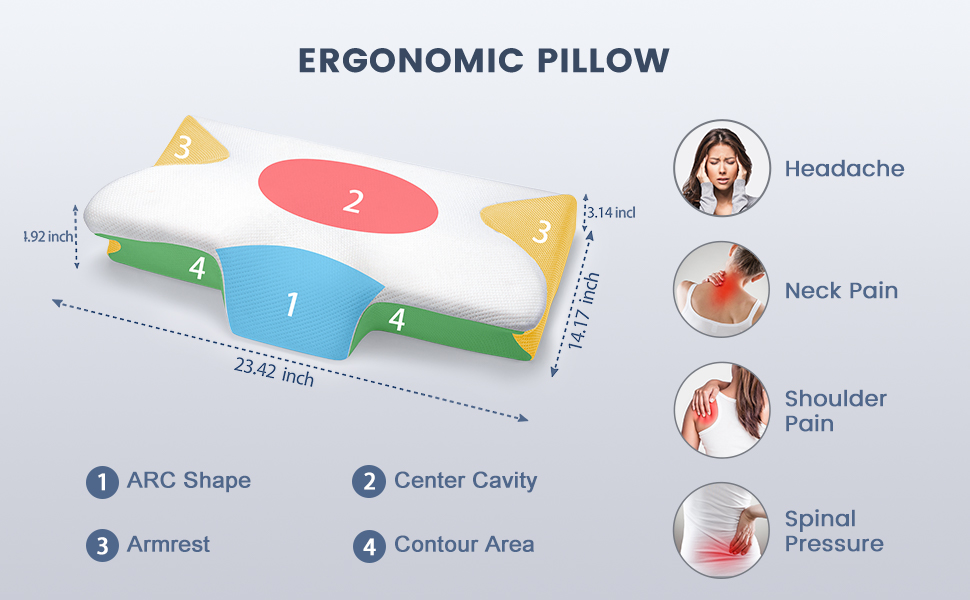 Tired of waking up feeling like your neck went on an overnight hiking trip without you? This pillow is your solution. It's like a gentle therapist for your neck, working out the kinks and ensuring you rise and shine without the aches.
Cloud Nine Comfort
That premium memory foam isn't just foam; it's a ticket to cloud nine. It adapts, supports, and ensures every night feels like you're floating in the sky. It's like the VIP lounge for your head.
Stay Cool, Sleep Star
Those sweaty, toss-and-turn nights? A thing of the past. With the breathable fabric, you're in for a cool, calm, and collected slumber. Think of it as a mini air conditioner for your face.
Allergy-Free Adventures
For the sneezers and sniffers, this pillow is a game-changer. Dive into dreamland without a single sneeze. It's like having a protective bubble, ensuring allergens stay out of your sleep zone.
Built to Last
This isn't just a pillow; it's an investment in countless nights of dreamy comfort. Durable, reliable, and ready to support you night after night. It's like the trusty old tree in your backyard, standing tall through every season.
Fresh & Fabulous
Who said maintenance has to be a chore? With the easy-care feature, your pillow stays fresh, and you stay fabulous. It's like having a self-cleaning oven, but for your sleep.
And there you have it! The RejuvaRest Orthopedic Cervical Pillow isn't just a bunch of features; it's a journey to the best sleep of your life. Ready to hop on board and explore dreamland? 🌟🛌🚀
"Dream Big, Sleep Better!"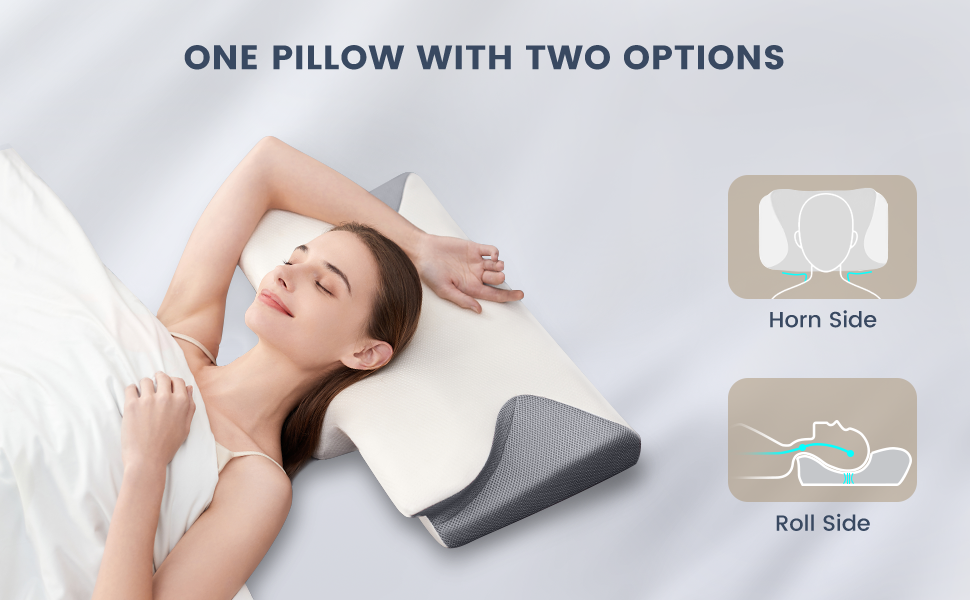 Alright, dreamer, here's the deal. The RejuvaRest Orthopedic Cervical Pillow is more than just a pillow; it's a passport to dreamland, a ticket to cloud nine, and your VIP pass to the best sleep club in town. But, and it's a big but, stocks are dwindling faster than you can say "sweet dreams." Everyone's catching onto this sleep sensation, and they're flying off the shelves. So, if you're ready to transform your nights and embrace the morning sun with a smile, now's your golden moment. Don't let this dreamy deal slip through your fingers; grab yours and embark on a sleep journey like no other!
"The Dreamy DNA Breakdown"
For the tech-lovers and detail divas, let's get down to the nitty-gritty of the RejuvaRest Orthopedic Cervical Pillow:
Material: Top-tier CertiPUR-US certified memory foam. It's the crème de la crème of the foam world, ensuring you're resting on nothing but the best.
Design: Advanced contour design. Think of it as the perfect embrace for your head and neck, ensuring optimal alignment and dreamy comfort.
Dimensions: Expertly crafted to fit heads of all shapes and sizes. One size truly fits all.
Pillowcase: Breathable fabric that ensures you stay cool, even on the warmest of nights. It's like a gentle breeze for your face.
Odor: Minimal to none. Dive straight into dreamland without any distractions.
Allergen-Free: Hypoallergenic properties to ensure you sleep sneeze-free.
Durability: Built to last, ensuring you enjoy countless nights of dreamy comfort.
Care: Machine washable pillowcase. Because who said luxury can't be low maintenance?
There you have it, the full tech tour of the RejuvaRest Orthopedic Cervical Pillow. Whether you're here for the dreamy benefits or the detailed specs, one thing's for sure: this pillow is set to revolutionize your sleep. Ready to join the dream team? 🌙🌟🛌🚀