You're the BEST MOM
Work from home set up is the trend right now, making parents more busy and exhausted. If you are a working mother with a newborn child, the tasks at hand is taxing and wearing.  However, with the help of BambiMonitor, you'll have less time constantly and anxiously checking your child and more time on working or resting during your free time.
BambiMonitor has a lot of help to give. From its wide and stable range, 2-way talk back technology, infrared night vision and many more, it will make baby-care more easier and parents happier.
WATCH, LISTEN AND TALK TO YOUR BABY
We know that you are that good! But what about the times when you are working or busy with life and your baby is in the nursery?
The ultimate baby monitor is here to finally give you a true peace of mind when you do your day-to-day activities and your little angel is relaxing or sleeping in his own room.
Unparalleled stability & wide range
When it comes to best baby monitor, you cannot afford to settle for any cheaply-made baby camera monitor anymore. What you need is a 24/7 undisrupted connection with crystal clear audio & video. This is exactly what you get with the BambiCam baby monitor with camera and its state-of-the-art 2.4GHz FHSS Technology paired with a supremely wide range of 960ft.
Two Way Talk Communication
BambiCam video baby monitor has advanced 2-way talkback communication technology, equipped with a Ultra-utility microphone and speakers. When your baby is crying, you can communicate with him in your own voice to comfort and relax your baby.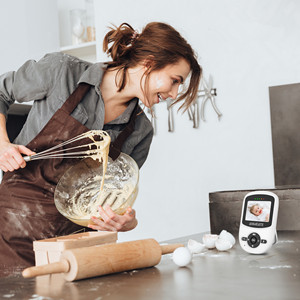 Auto Infrared Night Vision
Rest assured knowing you'll see your baby day and night. The Infrared Night Vision will automatically detect dim light, providing clear video even in dark rooms, so you will always know what your baby is doing.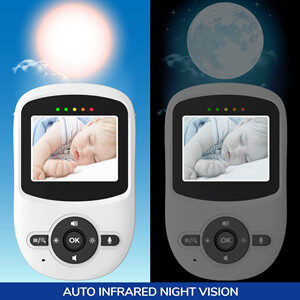 Make Baby-Care Easier
In the parent monitor, you could set up a clock to remind yourself to do something like feeding, diaper or others. It could be set at 2hrs, 4hrs or 6hrs. And don't worry it would wake the baby up, the baby unit wouldn't make any noise.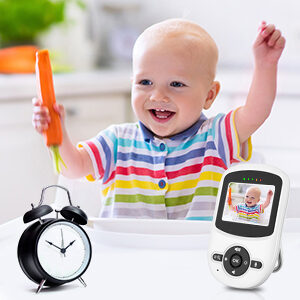 2.4GHz Digital Wireless Transmission
Compared with WiFi and APP required model baby monitor, this baby monitor makes it no way for someone to hack and connect into your WiFi and APP to see your baby. It is the best way to protect your privacy and your baby's safety.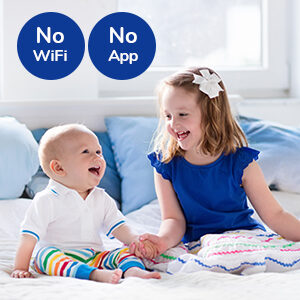 Connect Up To 4 Cameras
Get full room coverage by adding up to 4 cameras in alternate screen mode.(Scan view cameras every 15s)
Note: Additional cameras not included.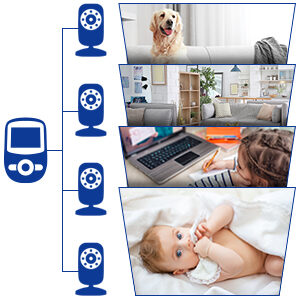 Long Transmission Range
Enhanced Long 480ft-960ft Transmission Range: Parents can get stable videos anytime, no matter if you're in the next room, kitchen downstairs, or yard outside. Note: Supports 960ft max. in an open area.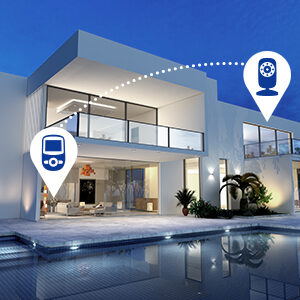 YOUR BABY DESERVES THE BEST CARE
2.4 Inch High Definition Color LCD Display

Secure Interference Free Connection

2.4GHz Digital Wireless Audio & Video Transmission

Long Range Up to 960 ft. (Open space)

Two-Way Talk-Back Communication

ECO Mode Voice Activation

Auto Infrared Night Vision

Alarm / Timer Setting