YOU WILL FEEL REFRESHED AND FULL OF NEW ENERGY—WITH RELFEXIMAT! 
With thousands of needle-like points, the ReflexiMat Acupressure Mat instantly improves blood circulation and releases tension within seconds. Within minutes, the acupuncture mat begins to relieve pain throughout the body and puts your body in a state of calm and relaxation.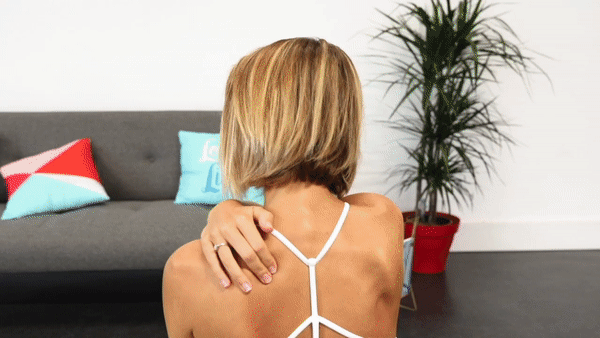 The acupressure mat and the acupressure pillow set can reduce muscle soreness and increase the level of endorphins. They can also increase the level of oxygen uptake in your body, which improves the quality of sleep, digestion, and metabolism. Acupressure has been used in Traditional Chinese Medicine for thousands of years to promote relaxation, well-being and treat illnesses. Feel reborn by using our acupressure mat and pillow set from the comfort of your home for just 10-20 minutes a day.
How Do the ReflexiMat Works?
The ReflexiMat works like your regular yoga mat and pillow, but with acupressure points. So, therefore, using the ReflexiMat is as simple as laying down on it and relax as the mat targets your pressure points and relieves body pain.
For beginners, you can start using the ReflexiMat on a bed or sofa; then, once you get used to the sensation, you can take it up a notch and spread out the mat on the floor for better penetration. On the other hand, if you're someone who does office works at home and consumes a lot of time sitting down, you can use the ReflexiMat on your chair to relieve discomfort while working.
There are many ways to enjoy the ReflexiMat's benefits at home! All you need to do is know which side you need relief with and lay down on that side for 5 to 10 minutes to reduce pain and tightness effectively.
The Benefits of ReflexiMat
✅ Helps releases endorphins, which block pain and help relax the muscles in your back, neck, and feet
✅ Effective in eliminating headache, stress, and tension
✅ Boosts recovery against body pain, including sciatica pain, fibromyalgia, etc.
✅ Assists in preventing insomnia and promote better sleep
Experience the ReflexiMat Difference!
Our ReflexiMat Acupressure Mats have helped hundreds of people, old and young, get relief from neck pain, back pain, stress, anxiety, fibromyalgia, and more. With over 50,000 units sold worldwide and hundreds of satisfied reviews from verified customers, the ReflexiMat is your most-trusted acupressure mat on the market today!
The ReflexiMat is a life-saver! I've been using this product for quite some time, and I can tell you, it works! It helped me get rid of backpain after a long day at work! 100% recommended for people who do office jobs.

Sheila, Verified Purchase
Sleep Like a Baby and Wake Up Renewed!
Lie down on your acupressure spiked mat and pillow for a relaxing sleep. Our acupressure mat uses your body weight to increase blood flow and penetrate deep into your muscles, giving you the feel of a professional massage in the comfort of your own home.
Details:
Mat size:68*40cm(26.7*15.7in)
Pillow size:37*10*14.5cm (14.6*4*5.7in)