Pain Relief and Wrist Comfort is Now in the CircoWrap Wrist Brace. With its Cushioned Lining, You Can Experience Soothing Comfort and Minimized Swelling. Great as a Sleep Support Brace and as an Extra Cushion for Injured Wrists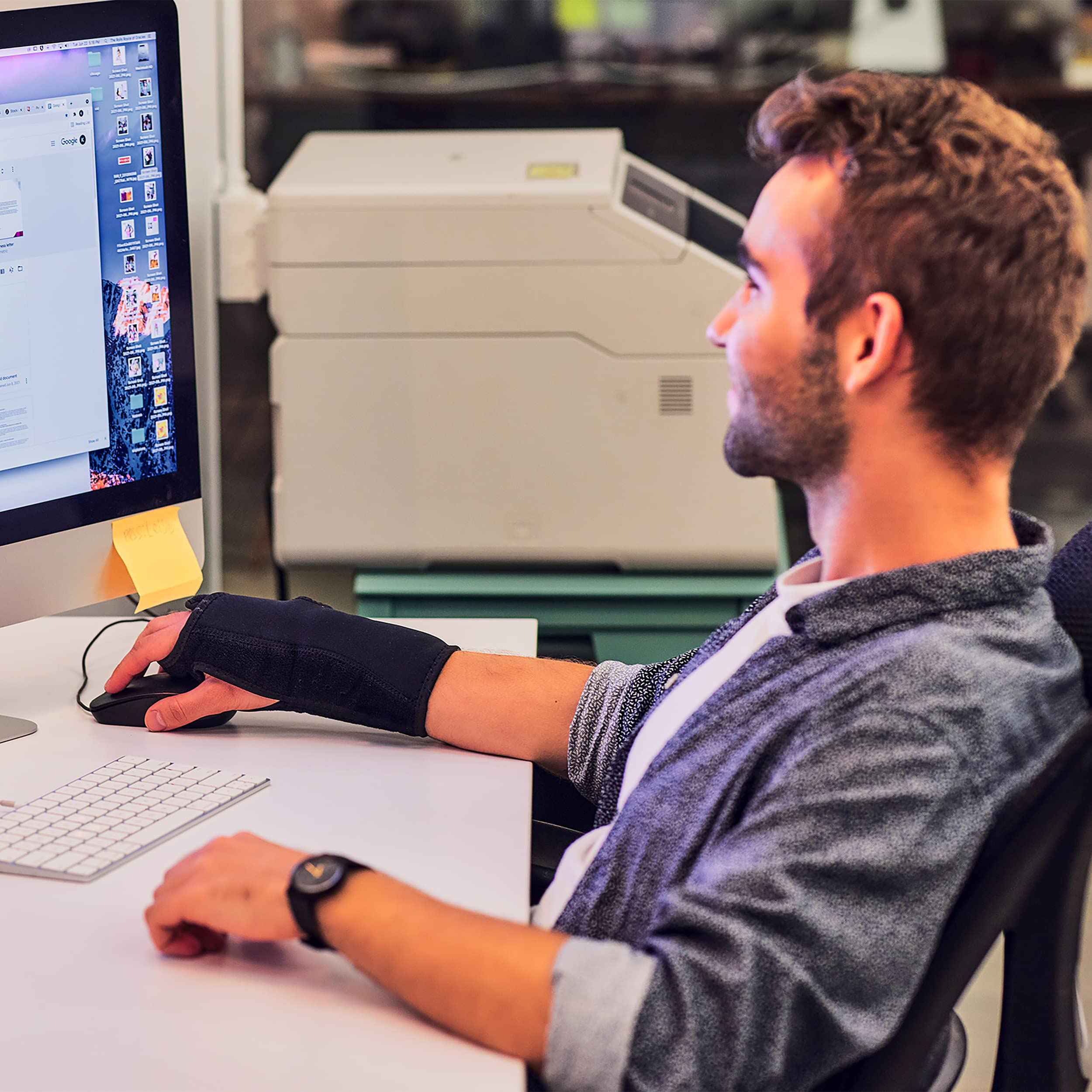 Give Your Wrist the Chance to Breathe From Pain and Strain. The CircoWrap and Its 360-Wrap Design with Cushion Lining Gives Optimum Support to Prevent Wrist Pain and Relieve Wrist Issues
The CircoWrap serves like a supporting hug to your hand.
The wrist brace comes with a solid wrap that holds the wrist firmly, preventing it from becoming more swollen and pained. The inner lining of the CircoWrap is cushioned to give your wrist a breathable, comfortable pillow while giving you optimum wrist support.
The CircoWrap comes with durable velcro material that can keep the hold of the brace securely. You won't have to worry about the wrist brace moving and shifting while you're using it.
Why Choose CircoWrap Wrist Brace?
Who is this support for?
Designed in association with NHS Clinicians, this Wrist Support is ideal for relieving the pain and discomfort experienced from carpal tunnel syndrome, repetitive strain injury, wrist tendonitis and other wrist conditions . If you are unsure of your condition it is recommended to consult a medical professional.
How does it work?
This wrist support contains an ergonomic metal bar that rests underneath the wrist and keeps the joint in slight extension, relieving strain on the tendons and helping to reduce wrist pain whilst the elasticated material provides support for the whole wrist region through gentle compression.
By keeping the wrist in a neutral position, the carpal tunnel is also kept in its widest position relieving the symptoms of Carpal Tunnel Syndrome such as wrist pain, numbness, pins and needles and tingling in the hand and fingers.
CircoWrap Wrist Brace Features
Offers instant pain relief from injuries, carpal tunnel, tendonitis, arthritis, injured wrist, and sprained wrist muscles! The moment you wrap the CircoWrap around your wrist, you will feel instant relief from the bugging wrist pain from injuries and muscle issues. Like a comforting pillow, the CircoWrap envelopes your wrist in total support and comfort.
Adjustable wrist brace that you can use for both left and right hand! With just one wrist brace, you can address pains in both of your wrists. No need to buy multiple wrist braces! The brace is also adjustable so you can enjoy a level of relief and comfort suited for you.
Delivers optimum pain relief through splint support and gentle compression. The CircoWrist includes a removable palmar splint that aligns your wrist in the right position to prevent pressing pain and alleviate aches from injuries. The ergonomic and strategically-placed straps deliver the therapeutic support you need.
Controlled compression without the discomfort, thanks to the breathable fabric. Our adjustable wrist brace for carpal tunnel features three durable strap fasteners that allow you to easily adjust the wrist compression depending on your wrist size and comfort; additionally, our latex-free wrist splint is made of cotton, nylon, and neoprene fabric that is lightweight, breathable, ensuring a good night sleep.
Reinforcing cushion support. While the metal splint immobilizes your wrist to a neutral position, the soft and supple cushioned bead bag gently massages your palm area at an ergonomic angle to enhance blood circulation and eliminate soreness.
Package Includes: