After a long day at work, nothing beats the feeling of true relaxation. The sensations that come with a good massage can relieve stress and exhaustion. But what if salon spas are far from you? What if they're expensive? Introducing the VizioPress back massager.
Features:
6 interchangeable massage nodes – Still suffering from muscle aches, knots and tension? Why not get portable massage therapy in the comfort of your own home or office? Switch between 6 nodes, the electric percussion massager provides various deep tissue massage experiences just like that of a real masseuse, well promote stress relief with full body massage on body parts like back, feet, arms , muscles, legs, calves, neck, shoulders, elbows and thighs, has also been shown to improve blood circulation.

Hassle-free and adaptable – Too busy for a SPA? This deep tissue electric massager allows you to enjoy a fantastic Shiatsu style massage anytime, anywhere. Super nice deep tissue experience at home, car and office. The built-in rechargeable battery lasts up to 100 minutes on a full charge. The smart battery status screen lets you know when to charge. For safety, it cannot be used while charging.

6 adjustable speeds and 6 massage modes – whether you prefer a gentle or intensive massage experience, simply press the button and an intensity level can be selected to suit your demand. All you have to do is sit back, press the buttons, and just let your stress melt away. Quick-acting relief fits comfort with the Percussion Body Massager.

Powerful motor and safety: Ergonomic motor with a power of up to 3200 pulses per minute, can effectively relieve pain, deeply penetrate your tissues and muscles, imitate vigorous knee brace. With pure copper motor, the percussion therapeutic massager has a longer service life and overheat protection. After using 15 minutes, it will automatically stop to prevent overheating or excessive use, such as when dropped.

– Frosted eco-friendly ABS design makes the handheld massager a perfect gift. It can benefit people with neck or back pain, muscle fatigue, and people with knee or shoulder injuries, etc. – Add to cart now.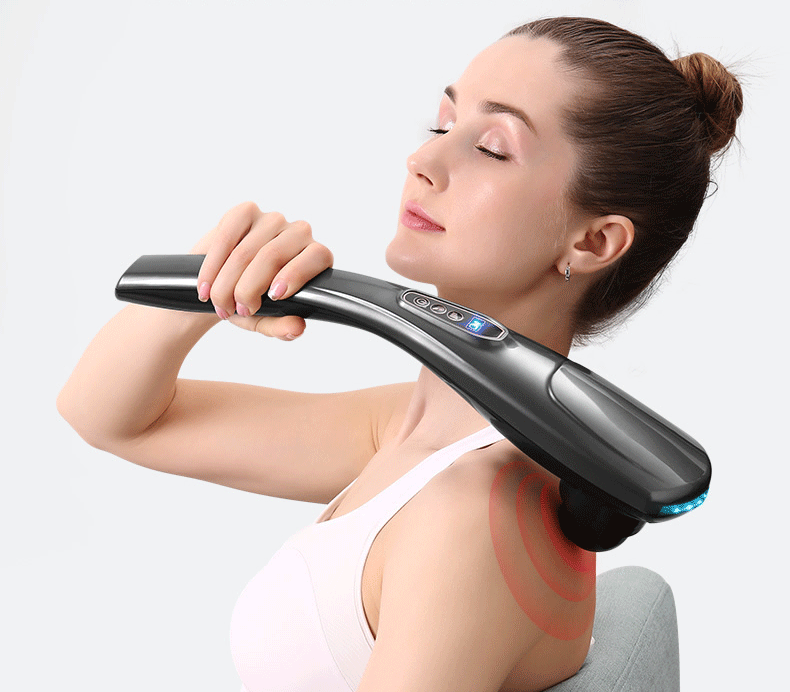 Do you often feel tired after a long day in front of the computer?
Do you often feel stressed?
Do you often feel pain in your back or shoulders?
VizioPress Handheld Percussion Massager is exactly what you are seeking for!
Relieves Tension from Upper Back
Repetitive motion or immobility may cause neck and shoulder pain. An upper back massage may help relieve the tension in that area and reduce the pain from migraines.
Relieve Lower Back Pain
Your back muscles can become very tense due to overuse or repetitive use during a rigorous workout or a sitting at a desk all day long. When massage is applied, some of the tension is released.
Full-body Relaxation
Leg massage can help relax leg muscles and it will also contribute to full-body relaxation and diminishment of stress and anxiety. And the reason for this is a huge set of reflex points, which are responsible for the state of the body as a whole.
At Home
After sitting down, enjoy a massage on neck and shoulders while watching TV for relaxation from hard work.
In the Car
The cordless shoulder massager will help relieve stiffness and soreness from the long trip.
In the Office
Sedentary lifestyle in the office surely has a negative impact on your health. Enjoy great stress relief by this rechargeable massager for 15 minutes to enhance your well-being.