This Tens Machine Helps You Say Goodbye to Muscle Pain!
Pain shouldn't be our constant companion. When pain strikes, it's easy to reach out for the medicine kit and pop up some painkillers. But here's the thing – using painkillers consistently can hurt you in the long run. Our MazaLief Tens Unit Electronic Pulse Massager Unit relieves Muscle Soreness, Stiffness, and Chronic Pain of the Shoulder, Waist, Joint, Back, Arms, Legs, and more without the negative chemical effects on the body! This tens machine device is created  to provide a safe, natural way of eliminating pain. Instead of the usual treatments, the tens machine sends electrical pulses across the surface of your skin to the nerve endings of the sore areas, providing fast and neuropathic and therapeutic pain relief.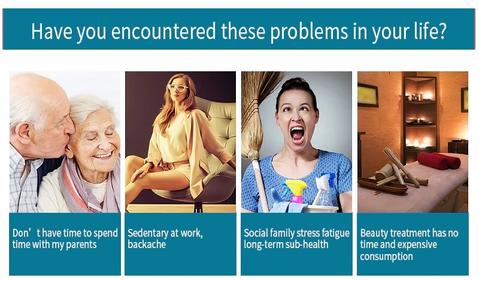 Through the high and advanced digital technology, the micro-electronic programs of the production synthesize seven high-energy biological electronic currents to directly travel to your body's surface acupoints and the no-fixed acupoints of the affected spot. The relief comes through induced kneading sensation, and through lifting.
Features:
Better relief and pain elimination is now possible with the device's improved features. With improved sensors and efficient controls that send signals, you can get pain relief better and faster.
The only TENS machine with proven intensity! The tens device now has 15 options for intensity to allow you to find a treatment that works well for your pain issues and need for muscle relief.
The device now comes with more understandable controls and commands. The display comes in English, so it's easy to use, and very simple to understand.
The unique deep treatment button can be used to instantly change the output pulse width so that the therapeutic effect can go deep into the skin and muscles.
The special immune therapy function improves your health and immune system so you won't be susceptible to health issues.

Works for All Kinds of Pain and Muscle Issues.
The MazaLief can address various pain issues like stiff shoulder, and neural paralysis, neuralgia, shark ache, whole body fatigue, stomach ache, bad cold, cervical neck ache, arthritis, toothache, high blood pressure, low blood pressure, energy failure, weak sexual ability, and irregular periods.

Operational Instructions:
1. Battery installation
1) Open the deck. Insert 3 AAA batteries. Pay attention to polarity to make sure your device will work.
2) Close the deck and cover firmly.
3. Prepare the electrodes for use.
4) Peel off the smooth film on the adhering pads.
5) Put the adhering pads on winder after use.
6. Place electrodes.
7) Wipe the spot of the body to be massaged with a wet towel.
8) Stick the electrodes directly onto the skin to be massaged
9) Treatment can not be effected unless both of the two electrodes are placed onto the body surface. It is not necessary to place the two electrodes symmetrically.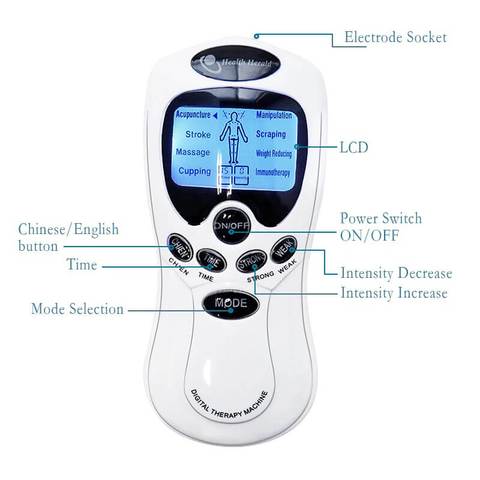 2. How To Use:
1) Press the on-off button for the LCD screen to display the power action. You can choose among the LED display signing arrow of selection for therapeutic modes, which includes= acupuncture, strength from O, and time up to 15 minutes.
2) English display button that you can easily access via the language setting.
3) For therapy like modes, there's a functional button – you can choose stroke, massage, acupuncture, manipulation, scrapping, cupping, weight reducing, and therapeutic.
4) There are 15 intensity levels that can be set on the above.
5) You can select time is 5-15 minutes press one time, time will be added to 5 minutes.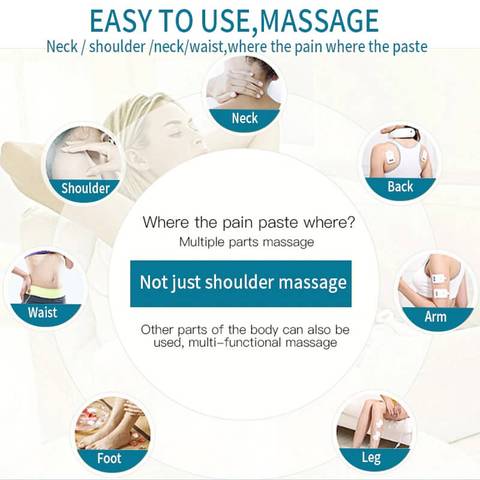 Note:
DO NOT use this product if you have a cardiac pacemaker or an existing cardiac condition, implanted metal devices/screws areas of the body, or are pregnant or suffer from epilepsy.
Do not use it while sleeping or driving.
If you have one of the following conditions, please consult with your physician before purchasing or using this device: any disease, tumor, pregnant, heart disease, high fever, abnormal blood pressure, lack of skin sensation or an abnormal skin condition, any condition requiring the active supervision of a physician.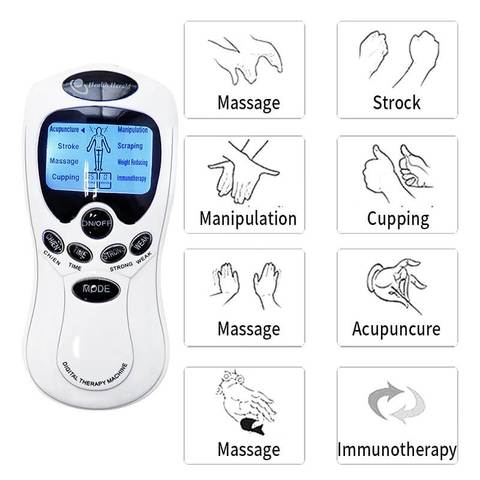 Specifications:
Power: dc4.5v, 3aa (7#) batteries
Frequency: 1-330hz
Power consumption: less than 180mw
Life of battery: For 45 hours contiguously in normal operation
Size : 153mmx70mmx18mm
Weight: 90g

Package Include:
Digital Therapy Machine X 1pcs.(not include 3 AAA batteries)
Electrode pads X 8 pcs.
Connection line X 2pcs.
Manual X 1.