Get Muscle Relief While You Sculp and Tone and Lose Weight? The InfraBelt Red Light Therapy and LipoLaser Belt Can Do That!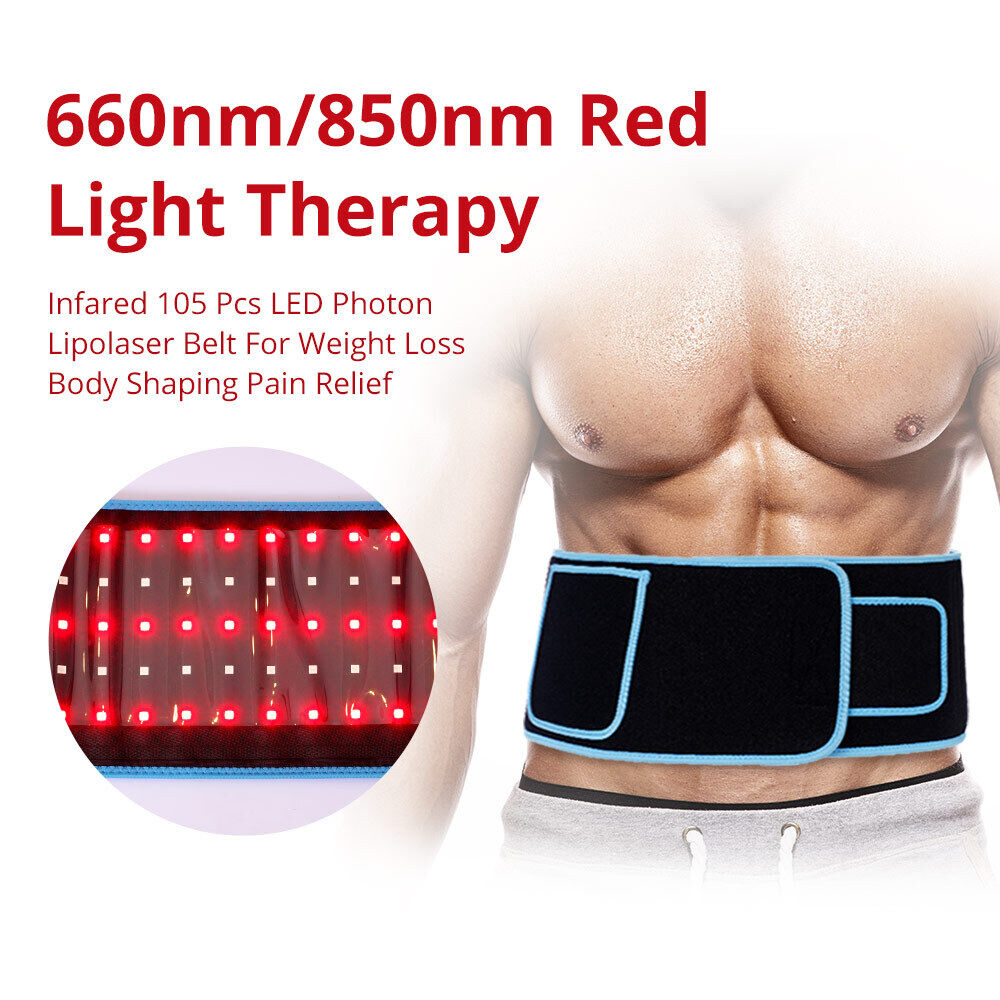 Red Light Therapy Belt Comes with Hundreds of Deep Penetrating Infrared Light Beads to Help in Muscle Relief, Digestive Functions, and Weight Loss
When you're gassy, or feeling muscle cramps in your abdominal area, you can trust on the InfraBelt to help alleviate the pain for you. Another winning feature of the InfraBelt is its LipoLaser which targets tummy fat so you can lose weight while you bust the pain. 
The InfraBelt now comes with 105 LED light beads that distribute infrared therapy all over your abdomen. Each LED light bead now comes with 3 chips which gives the belt 315 chips in total.
With more infrared intensity and better red light distribution, this belt is guaranteed to give you relief for any abdominal or back pain!
Who the InfraBelt is For? 
✅ Gym buffs working on abs and back.
✅ Those with work that involves lifting.
✅ Middle-aged and elderly with back and abdominal problems.
✅ Those who want to relax after a workout.
✅ Those who have muscle cramps in the abdomen and the back.
✅ Those who want to lose weight from the love handles.
InfraBelt Red Light Therapy Belt Features
Powerful red light therapy that delivers soothing heat and infrared healing to your muscles.
The belt comes with the 635nm red light known to effectively relieves body fatigue and pain, improves blood circulation. The InfraBelt also comes with 850nm infrared light that has a strong ability to penetrate deep into tissues — ideal for muscle recovery, reducing joint pain and inflammation.
The red infrared light now come comes with more LED lights that deliver deep penetration of healing and soothing benefits to your muscles.
Total 105 LED lights, each LED light contains 3 chips, 315 chips in total, more efficient. It works body wraps, sufficient length can better cover the therapy area, deeper into the tissue.
Includes 5 LED light levels of brightness to choose from 
The infrared belt now comes with 5 levels of adjustable brightness settings, and the brighter the light beads, the higher the temperature, and the more obvious the light therapy effect.
The heat goes deep inside the muscle tissue with infrared light and helps speed up joint recovery, and alleviate pain. Great for sports injuries, arthritis, tendonitis, and tissue repair with the characteristics of warm outside, the heat inside, without any harm to the skin.
Comes with a timer designed for various needs.
The red light therapy waist wrap belt owns a 0-30 minutes timer function, which can set your ideal therapy time by yourself. The maximum temperature is at 113°F (45°C) to protect effectively the skin from burning for high temperature. It's safe to use even during sleeping.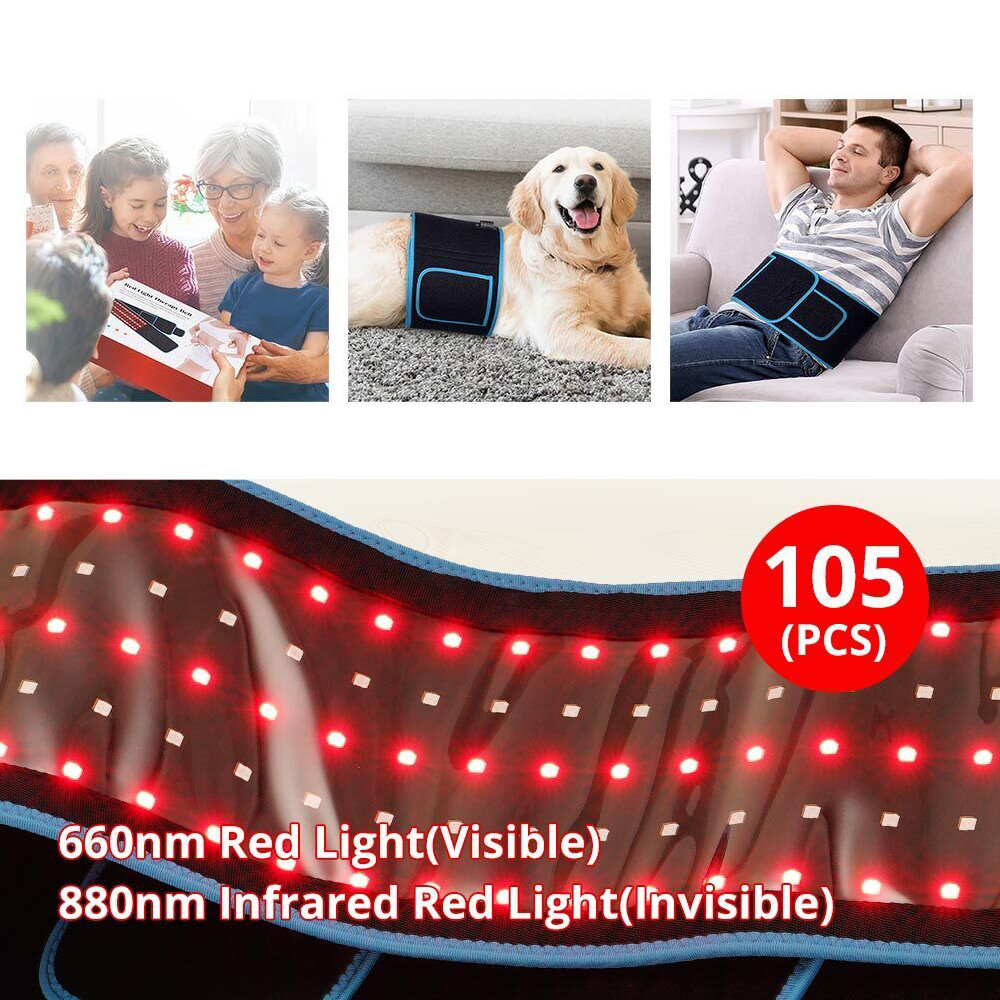 Why Choose the InfraBelt Red Light Therapy Belt? Check Out the Features!
Red Light Therapy Belt with More LED Light Beads for More Effective Use
With the InfraBelt, you will be exposing the skin to visible red light therapy. The lights are now more deep penetrating, and are well distributed to target all pain parts of your lower back and abdomen.
You Can Choose from Two Levels of Intensity Depending on Your Need
There's the 635nm wavelength and invisible infrared lamp for more all-around heat therapy.
You can also choose the 850nm wavelength that is made to go deep into the tissue so the tissue can receive healing energy and get better circulation.
Number of light therapy lamp beads and chips:
You will get a total of 105 LED light beads.
63pcs 635nm red light beads
42pcs 850nm infrared light beads
1 LED light bead contains 3 chips for a total of 315 chips.
Product size: 49.6*7.1 inches/126*18 cm
High-Irradiance
The highest optical power density is over 2000w/㎡ (200mW/cm²).
Notice: Portable power meter can measure the maximum value of 2000w/㎡.
The higher the power output (irradiance), the more red led lights emission, which can greatly shorten the required time for muscle healing.
Waterproof and Oil-proof
The InfraBelt comes with a transparent protective layer that can separate the sweat and oil on the skin and protect the product from getting damaged.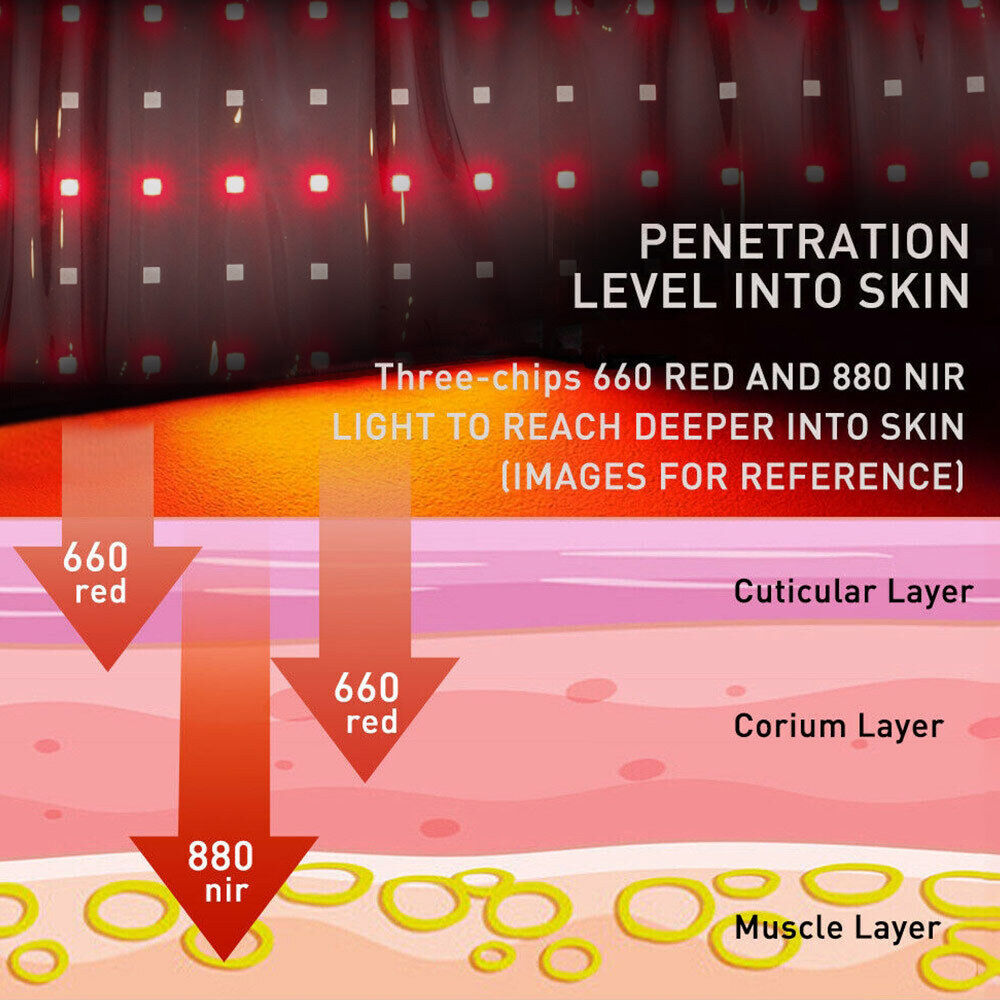 You Can Choose From the 5 Levels of Brightness
When the brightness changes, the temperature of red light therapy device will change also. You have 5 different intensity levels to choose from ranging from light to deep penetrating so you can address muscle pain immediately.
The Infrared Belt Offers a Wide Range of Applications – Works as a Belt and Body Wrap
The red & infrared light therapy device helps relax muscles and promotes muscle care. It works as a body wrap, and is also suitable as a waist wrap, stomach wrap, knee wrap,foot wrap, shoulder wrap,belly wrap, hand wraps and other body wrap.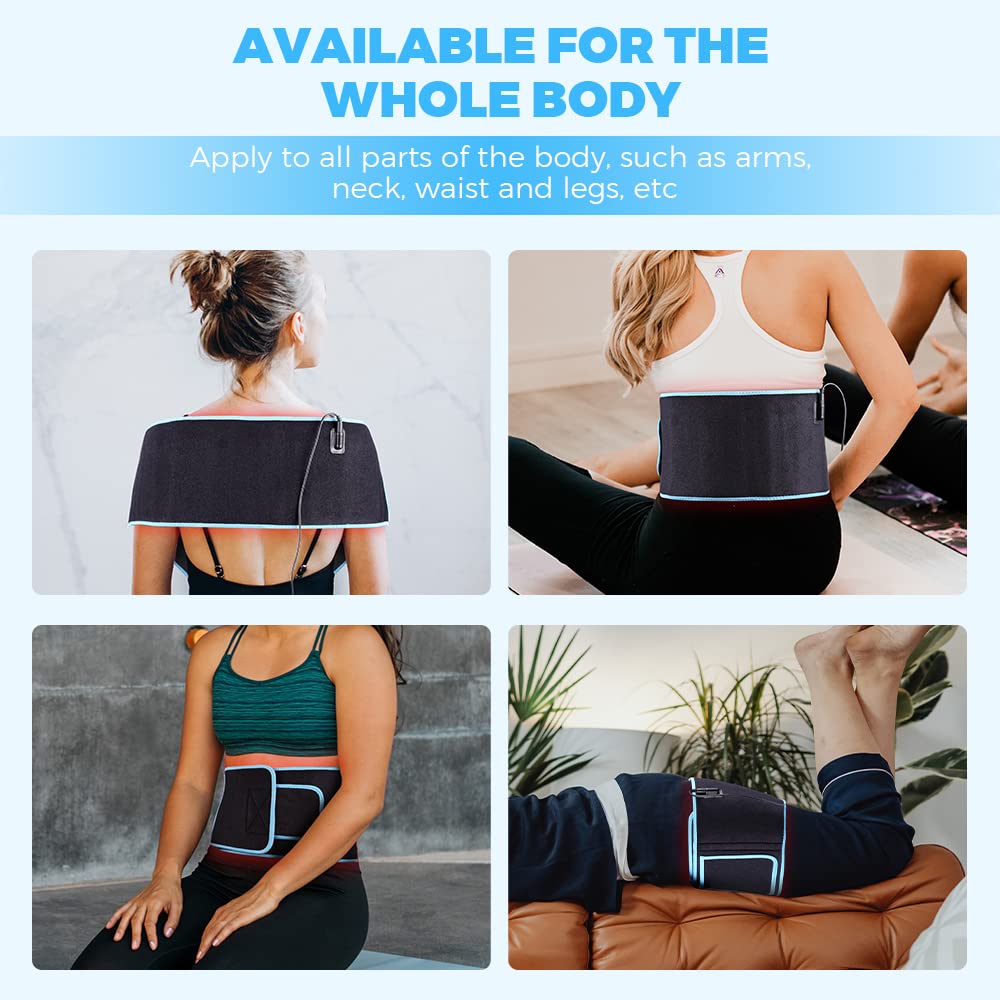 Packcage Includes