Created by Posture and Neck Care Experts to Bring Your Neck and Posture Back to The Proper Position – Goodbye Pains and Strains!
"Definitely five stars for the AxroCloud and its efficient way of correcting my neck posture and relieving pressure from the base and the tip of my neck! In just 10 minutes, I felt extreme relief!" – Marsha, Elementary Teacher
⭐⭐⭐⭐⭐ – BC
✅ Verified Buyer
For a Healthy And Relaxed Lifestyle Free From Neck Discomfort
Widespread computer and mobile phone use along with poor workplace ergonomics in modern society are a major cause of common neck tension and pain. This neck pain interferes with daily activities and can often be difficult to relieve. The long-term discomfort from this can be debilitating and compromise the quality of life.
This neck cloud has a unique design shaped like a wave in the ocean giving a supportive stretch that is needed to aid in alleviating neck issues. This ergonomic stretch gently pulls the head away from the neck to create expansion and eliminate compression, helping to relieve neck pain and discomfort. Experience the joys of neck tension relief and relaxation and get back to daily activities in as little as 8-10 minutes a day.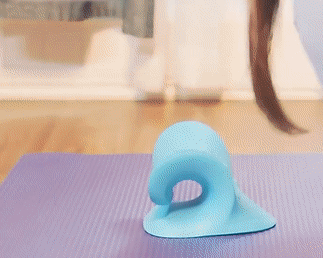 6 Reasons Why You Will Love The Benefits of AxroCloud Neck Cloud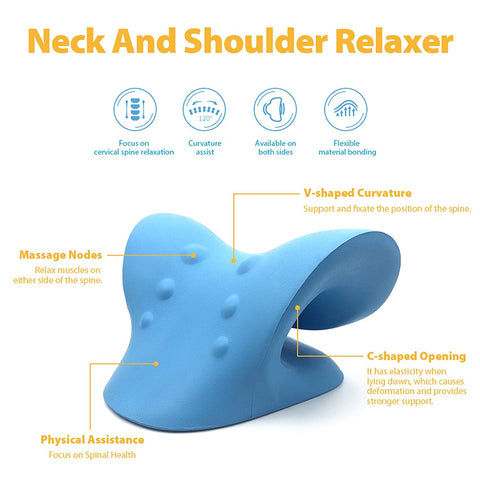 ✅ Relieves Pressure and Pains That Root From Bad Neck Posture and Positioning

The neck cloud not only helps relax a tight and stiff neck due to tension but also helps with chronic issues and injuries. It aids in relieving discomfort from migraines, pinched nerves, TMJ, whiplash, tech neck, and many other things that cause chronic neck pain.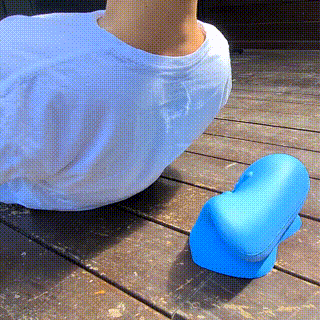 ✅ Comes with an ergonomic design that is specially formed to help the neck and spine.  
The  4" tall C shape and raised pressure bumps of the neck cloud are designed to support and hug the natural shape of the cervical spine. This comfortable contour helps align the neck correctly, helping to relieve pain, tension, and stress, without putting pressure on the spine.
✅ Helps Improve Posture and Align Neck into Proper Position
Regular use of the neck cloud simultaneously strengthens and realigns the cervical spine, leading to better posture. This helps prevent chronic neck problems and acute injuries caused by misalignment from constant bent head postures.
✅ Includes two sides for two different neck care needs. 
Both sides of the neck cloud are used to provide the correct type of relieving stretch that is needed. The convex side provides a reduced amount of traction and is ideal for severe neck pain and a poor range of motion and the concave side provides the greatest stretch and is perfect for more advanced users.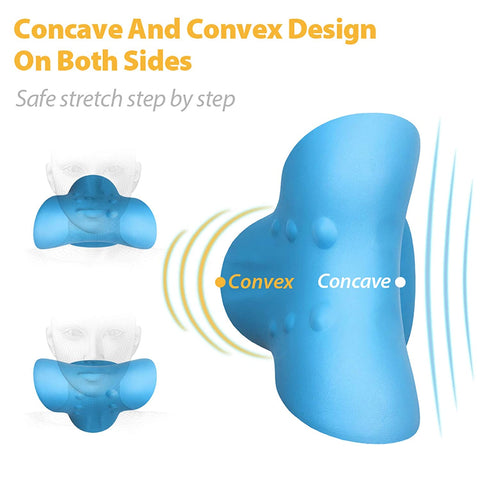 ✅ Portable Design
The This neck cloudis compact and lightweight so it can be taken anywhere including traveling and the office in addition to at-home use. This allows for a stretch and relief whenever and wherever it is needed.
✅ Easy To Use
A quick, easy, and inexpensive way to improve neck health, the neck cloud only requires a few minutes of time, up to twice a day. Simply lay down on it for an effective, non-invasive, and drug-free solution for neck pain and posture correction.
ArxoCloud Neck Cloud Features
✅ With Ergonomic Shape and Curve that Relieves Pain, Tension, and Stress. This neck stretcher helps your spine flex, stretch, and relax to strengthen tissues and relieve joint pain associated with headaches, soft tissue problems, TMJ, migraines, and common neck and spine-related problems
✅ With Durable Sturdy Design That Can Restore Cervical Spine Alignment. Our acupressure pillow and neck stretcher for pain relief can help gently realign the small bones in the neck and spinal area which is important after long hours sitting at a desk spent driving, or after lengthy flights
✅ Comes with Multipurpose Design to Naturally support Your Head, Neck, and Shoulders. This cervical traction device made with firm, high-density foam can be used for relaxation, active injury recovery, or relieving stiffness, aches, or pain
✅Helps Enhance Natural Circulation. Stretching your neck and shoulders with the ArxoCloud for 10–15-minute sessions every day can help improve blood flow which can further decompress your spine, alleviate inflammation, and relieve knotted muscles at the base of the skull
✅Improve Sleep, Focus, and Productivity. Our neck stretcher pillow and neck and shoulder relaxer can help you feel more focused at work, more relaxed at the end of the day before bed, and rejuvenated and ready to go when waking up in the morning
---
How To Use
Lay the neck cloud on the ground with the convex side facing towards you for very tight necks and beginners or the concave side facing you for a stretch for advanced users.
Slowly place your back down followed by your neck.
Take some deep breaths and reposition if needed.
Feel the stretch and relax! Start out using for just a few minutes at a time and work up to more.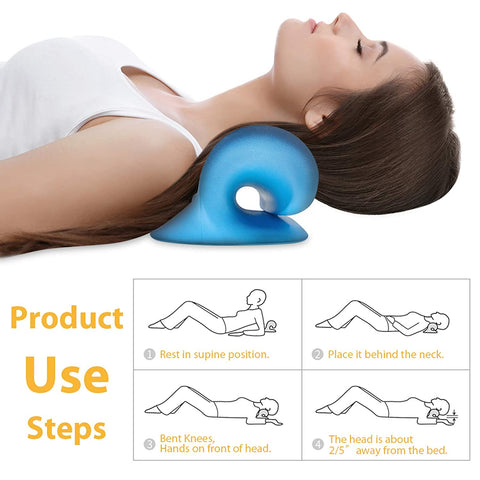 **For sensitive people cervical wave stretching may cause minor discomfort at first so it is recommended to start slowly, using for a few minutes at a time to start, until your body adjusts to the stretching benefits.**
We understand that many daily activities that involve repetitive forward head movement can leave your neck tight and painful. Staring at a phone or computer, sitting all day, injury, lack of exercise – any of these can cause discomfort and promote neck pain. The prevalence of neck pain globally is hard to ignore, with numerous studies showing that up to 70-75% of the population will experience neck pain some time in their lives.
This neck cloud is a lifesaver, helping to safely stretch spinal vertebrae and muscles to relieve neck pressure and pain when it is needed. With its easy-to-use design, the neck cloud helps release tension in the cervical spine and neck muscles, relieving discomfort and helping to prevent it from happening again. This allows for more freedom and pain-free enjoyment of everyday life!