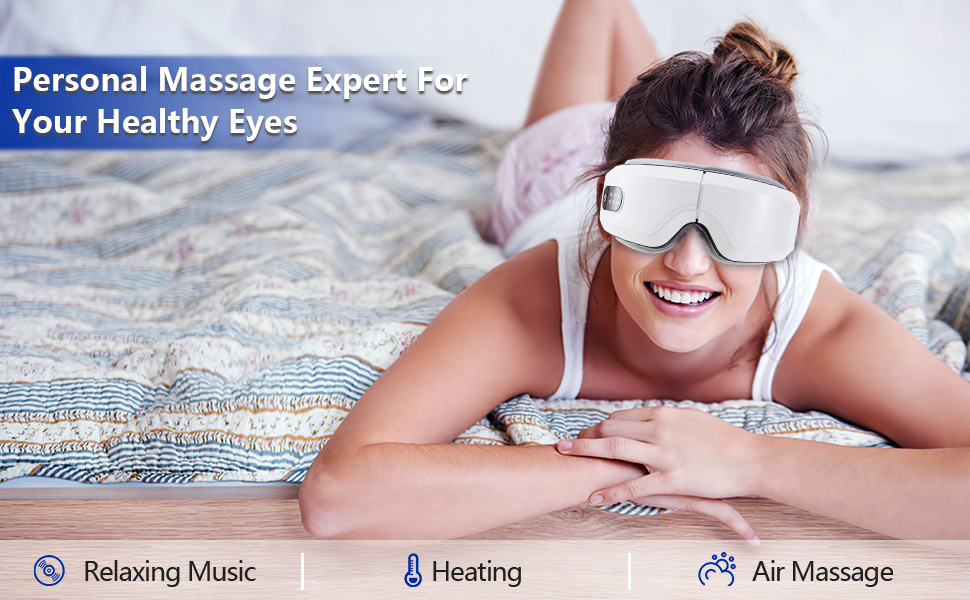 Are you tired of staring at screens all day, only to be left with tired, strained eyes? Look no further than the AirBliss Rechargeable Eye Massager with Heat and Vibration, Voice Prompt!
This eye massager has been designed to create various new kneading experiences, integrating massage, pressing, and vibration to enhance the comfort and improve the quality of the massage. Perfect for anyone who works long hours or studies late at night and is seeking relief from eye fatigue.
With heating settings available, you can choose to turn on soothing heat at 104°F (40°C) or deeper heat at 107°F (42°C) to help relieve puffiness, dry eyes, and more. You can also enjoy the added convenience of Bluetooth and silent mode, allowing you to play your own music wirelessly or turn off the voice broadcast for a deeper sleep at night.
Adjusting your favorite settings is easy with physical buttons for power/mode, compression, heat, and music/volume. Plus, the eye massager is designed with a raised nose bridge to reduce pressure and adjustable shoulder straps to fit any head size. The soft, breathable leather lining is easy to clean with just a cloth.
The AirBliss Eye Massager  is your new best friend, whether you're at home, on the road, or on a business trip. The flip-top foldable design allows you to take the massager with you wherever you go, and the built-in 1000mAh rechargeable battery ensures that you can use it without being connected to an electrical outlet. Don't let tired, strained eyes hold you back any longer – try AirBliss Eye Massager today!
Features:
Air pressure massage with double-layer 16D airbag simulation of human body kneading pressure point
Hot compress with adjustable gear size
Digital high-definition display with touch on/off key
Bluetooth connectivity for music
Skin-friendly and breathable PU protein leather
180-degree foldable design for easy portability
Ergonomic curved head design
Elastic headband for comfortable fit
Voice prompt for easy use
Benefits:
Reduces eye fatigue for people who work long hours or study late at night
Provides upgraded massage experience by integrating massage, pressing, and vibration
Relieves puffiness, dry eyes, and more with the heating settings
Voice broadcast tone and Bluetooth connectivity enhance user experience
Physical buttons with power/mode, compression, heat, and music/volume allow easy adjustment of settings
Raised nose bridge reduces pressure on the nose
Adjustable shoulder straps fit any head size
Soft, breathable leather lining allows for easy cleaning
Built-in 1000mAh rechargeable battery for use anywhere
Portable design allows for use at home, on the road, or on business trips.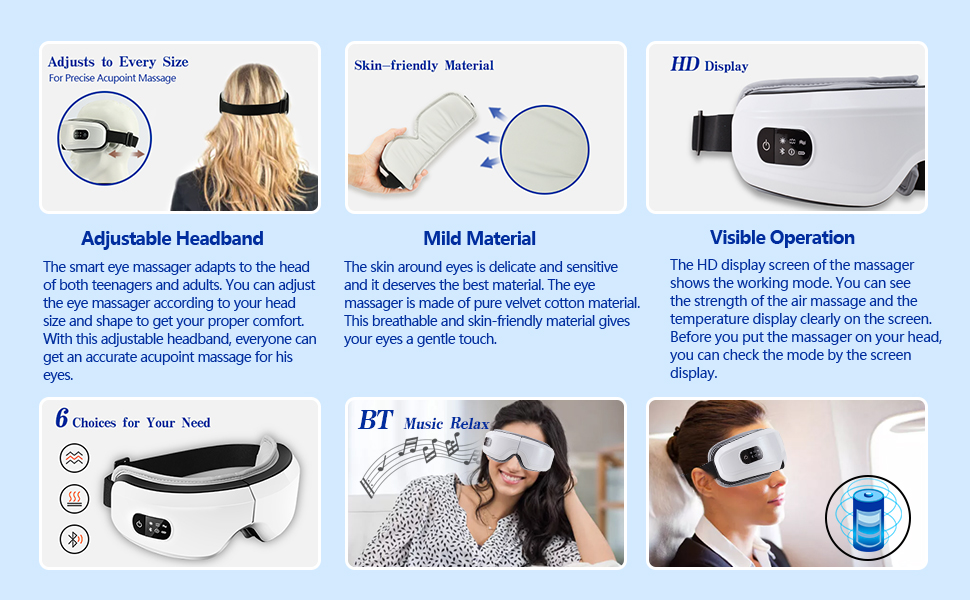 Specifictions
Material: ABS+ advanced PU protein leather
Battery capacity: 1000mAh
Power input: 5V/1A
Use power: ≤5W
Rated heating power: 5W
Charging interface: Micro USB charging
Charging time: about 3 hours
Use time: 8-10 days (15 minutes per day)
Weight: 0.32kg
Size: 20.5*8*2cm
Massage method: warm compress + air pressure massage + multi-frequency vibration
Massage mode: set the mode and automatically shut down after 15 minutes
Operation mode: physical button operation is simple and convenient
Main function: relax eye muscles, promote blood circulation, relieve eye pressure