High-Quality Neck Brace with Adjustable Traction + Heating Pads for the Ultimate Comfort from Stiffed, Painful Neck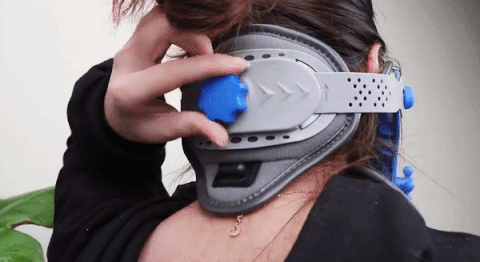 The Adjustable Neck Brace with Heating Pads That Offers the Best Support So Your Neck Can Recover From Pain and Stiffness
A stiff, sore, painful neck can be so hard to endure when not remedied immediately. A reliable neck brace can provide that much needed support to relieve our neck from pressure, wrong posture, and awkward positions that cause strain on our neck muscles.
The AdjuxLieve features a design that speeds up the healing process for neck strain, stiff neck, and minor neck discomforts. The adjustable neck brace allows you to customize the best level that stretches the muscles gently while giving total support to the chin.
The AdjuxLieve is for you if… 
✅ You're looking for a neck brace with adjustable traction.
✅ You want a neck brace that can provide appropriate support to your chin.
✅ You prefer a neck brace with an ergonomic design to help alleviate neck pain fast.
✅ You want a durable neck brace that won't give you discomfort while you're wearing it.
✅ You want a neck brace you can use for multiple neck issues.
AjuxLieve Features
Designed by a physical therapy expert to provide the most optimum support and healing for the neck. The AjuxLieve comes with an ergonomic shape developed by a professional. The shape automatically wraps the physiological curvature of the cervical spine to give total neck relief.
Multifunctional and great for all types of neck pain. This cervical neck brace with adjustable traction is ideal for stiffed neck, strained neck muscles, and exhausted neck muscles. This can also provide temporary support for minor neck injuries.
The adjustable neck brace that can fit all sizes. Helps you find the setting that's perfect for you. Multifunctional neck brace with adjustable height, allowing symmetrical traction of different spinal curvatures. Our improved version neck stretcher has two knobs, the front knob adjusts the height of the neck brace, and the rear knob adjusts the tightness.
Durable neck brace that won't snap while you're using it. The AdjuxLieve is made from steel frame with synchronized traction on both sides to maintain balance. This neck brace is incredibly light weight – you can wear this for a long time without discomfort because it's so breathable.
Heating pads that help remove muscle pain around the neck fast. The pads will provide hot traction for your neck and cervical spine. This hot compress can promote blood circulation to help improve the inflammation of the cervical spine, nerve roots, joint capsules, muscles and other tissues subside, and also can prevent a variety of middle-aged and elderly diseases.
Easy to use! Just wear the AdjuxLieve for half an hour a day, the neck can be fully rested and relaxed. It can be worn at home or in the office without affecting daily life.
SPECIFICATIONS
Material: Cotton-woven Fabric+PP Plastic
Color: Grey
Working Voltage: 5V
Current: 2A
Heating Temperature: 3 Adjustable Levels(Level 1: 45ºC — Level 2: 55ºC — Level 3: 65ºC)
Power Supply: USB/DC 5V 2A
Packaging Size: 25*19.5*22cm
PACKAGE INCLUDES:
1 × Neck Brace
1 × USB cable
1 × Manual